Submitted by Charles Hugh-Smith of OfTwoMinds blog,
ObamaCare will act as a neutron bomb on the U.S. economy for systemic reasons.
Longtime readers know I have repeatedly explained why healthcare, i.e. sickcare, will bankrupt the nation. ObamaCare simply speeds up the coming collapse. Here are two of the dozens of entries I've written on sickcare:
America's Hidden 8% VAT: Sickcare (May 10, 2012)
Can Chronic Ill-Health Bring Down Great Nations? Yes It Can, Yes It Will (November 23, 2011)
I have also explained why ObamaCare's "fixes" are simulacra reforms that don't even address the systemic costs arising from the cartel-fiefdom structure of sickcare:
Why "Healthcare Reform" Is Not Reform, Part I (December 28, 2009)
Why "Healthcare Reform" Is Not Reform, Part II (December 29, 2009)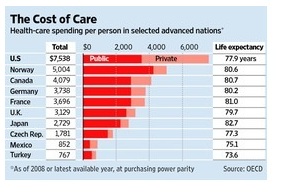 Sickcare is unsustainable for a number of interlocking reasons: defensive medicine in response to a broken malpractice system; opaque pricing; quasi-monopolies/cartels; systemic disconnect of health from food, diet and fitness; fraud and paperwork consume at least 40% of all sickcare funds; fee-for-service in a cartel system; employers being responsible for healthcare, and a fundamental absence of competition and transparency.
Please glance at these charts to see how the U.S. healthcare costs are double those of competing nations on a per capita basis. Japan provides care for a mere 36% per person of what the U.S. spends–yet millions of Americans remain uninsured or underinsured.
If you set out to design a corrupt, inefficient, wasteful, unfair, deranged and unreformable system, you would arrive at U.S. healthcare/ObamaCare.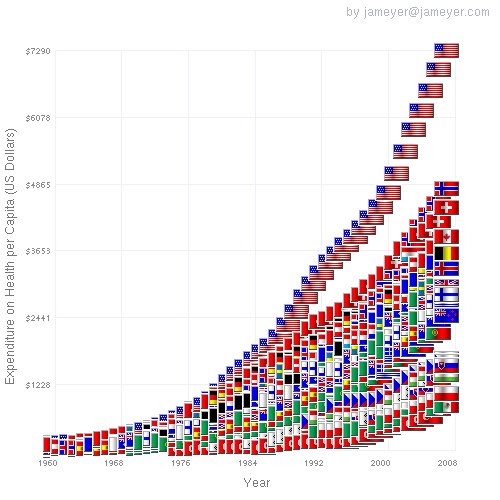 ObamaCare ignores the structural causes of our ill-health: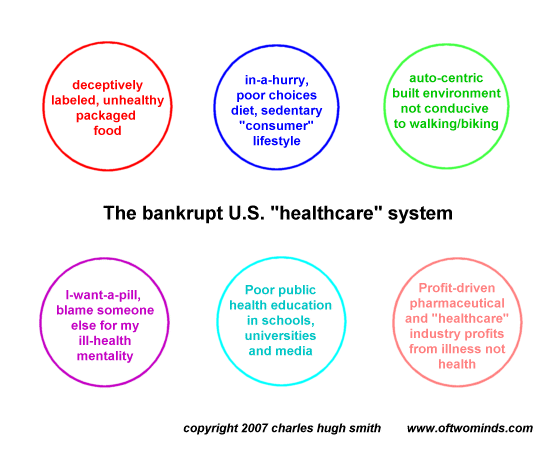 86% of Workers Are Obese or Have Other Health Issue Just 1 in 7 U.S. workers is of normal weight without a chronic health problem.
The Patient Protection and Affordable Care Act (PPACA), i.e. ObamaCare, is a neutron bomb for employment. A neutron bomb is an enhanced-radiation thermonuclear weapon that famously leaves buildings, autos, etc. intact but kills all the people, even those inside buildings. vehicles, etc.
ObamaCare will act as a neutron bomb on the U.S. economy for these systemic reasons:
1. It is immensely complex, and already-marginalized small business owners will shed employees or simply close rather than have to figure out what all those thousands of pages of regulations and statutes mean to the survival of their business.
2. ObamaCare's primary mechanisms of lowering costs, insurance exchanges and technocratic selection of "best care practices," do nothing to change the systemic flaws of sickcare.
Many other commentators have already outlined how ObamaCare is driving employers to replace fulltime workers with part-time workers to avoid having to pay outrageously expensive monthly healthcare insurance premiums.
I see this response as a Corporate-America strategy. Corporate America has the human resources infrastructure and financial heft to figure out compliance and exploit loopholes in the insanely complex law. Small business has neither the infrastructure nor the financial resources. Small business owners will rely on the same cartels that are currently providing insurance for guidance, and of course the ObamaCare offerings will suit the financial needs of sickcare cartels.
Once small business owners see the costs of their options, some may opt to pay the penalties and others may follow the corporate strategy of turning each fulltime job into two part-time jobs to avoid paying for coverage or penalties, but many will choose instead to call it quits: either downsize to a one-person/one-household business with no employees at all, or sell/close the enterprise and escape the burdens.
What the lobbyists and attorneys who wrote the Obamacare monstrosity do not understand (because they have no exposure to or experience in the real economy) is the fragility of most small businesses: costs keep rising but revenues are stagnant. The mental and financial stresses keep rising, and ObamaCare does nothing to mitigate either source of stress.
The inside-the-Beltway types who crafted this mess have no idea of the pressures facing legitimate (non-black-market) business in America, corporate and small business alike.
ObamaCare offers even more incentives for Corporate America to offshore operations, and it provides powerful incentives to millions of marginal small businesses to shut down or shed all employees.
I am not alone in simply not wanting to waste the time, money and energy required to understand the new law and its various impacts on my business. We will cling to our already insanely expensive private healthcare insurance, one of the few that has been grandfathered in: new self-employed entrepreneurs won't be able to buy the absurdly costly policy we have–they will be offered a range of even worse deals, with higher costs and less coverage.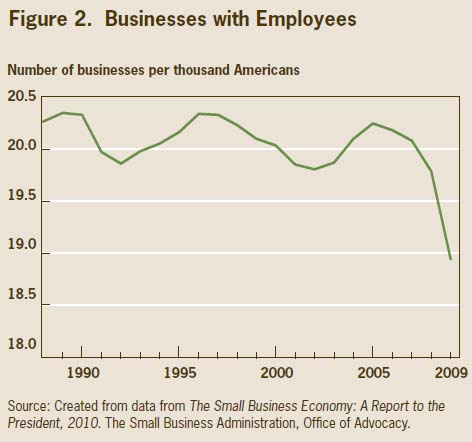 3. Perhaps most cruelly, the bronze level of ObamaCare–the "affordable" care–is a mirage, a simulacra of insurance rather than actual insurance. Bronze level ObamaCare features deductables of around $6,000.
In other words, you have to spend $6,000 before your insurance kicks in.
In an economy in which two-thirds of all households live paycheck to paycheck, this is the equivalent of no insurance. High-income sickcare lobbyists and millionaire politicos may look at $6,000 as no big deal, but for households with little savings or credit, that might as well be $60,000.
4. As many others have pointed out, the income levels that divide receiving a Federal subsidy from not receiving a subsidy are begging to be gamed. If $62,000 is the line in the sand that qualifies your household for a hefty subsidy on health insurance, the incentives to adjust earnings to fall just below $62,000 (or whatever the number is for the locale and household size) are immense.
People respond to the incentives and disincentives they are presented with, perverse or otherwise. The lobbyists, toadies and apparatchiks who wrote and passed ObamaCare could not have stuffed the bill with more perverse incentives if they had set out with that as their primary goal.
The neutron bomb has gone off, unseen by politicos and the Elites who wrote the bill. It is already undercutting fulltime employment, and it will soon add momentum to the free-fall erosion of small business growth and employment.
The strip malls and office parks will still be standing; there just won't be many employees in them.
Of related interest:
About Your $3.16 a Day Healthcare Insurance Plan… (February 21, 2013) MirageCare
What If ObamaCare, Too Big To Fail Banks and the State Are All the Wrong Sized Unit?(February 25, 2013)
via Zero Hedge http://feedproxy.google.com/~r/zerohedge/feed/~3/yHh0_4ChTmY/story01.htm Tyler Durden