Submitted by Charles Hugh-Smith of OfTwoMinds blog,
Obamacare is a catastrophe that cannot be fixed, because it doesn't fix what's broken in American healthcare.
I just finished a detailed comparison of my current grandfathered health insurance plan from Kaiser Permanente (kp.org), a respected non-profit healthcare provider, and Kaiser's Affordable Care Act (Obamacare) options. I reviewed all the information and detailed tables of coverage and then called a Kaiser specialist to clarify a few questions.
First, the context of my analysis: we are self-employed, meaning there is no employer to pay our healthcare insurance. We pay the full market-rate cost of healthcare insurance. We have had a co-pay plan with kp.org for the past 20+ years that we pay in full because there's nobody else to pay it.
What we pay is pretty much what employers pay. In other words, if I went to work for a company that offered full healthcare coverage, that company would pay what we pay.
Kaiser Permanente (kp.org) is a non-profit. That doesn't mean it can lose money on providing healthcare; if it loses millions of dollars a year (and some years it does lose millions of dollars), eventually it goes broke. All non-profit means is that kp.org does not have to charge a premium to generate profits that flow to shareholders. But it must generate enough profit to maintain its hospitals, clinics, etc., build reserves against future losses, and have capital to reinvest in plant, equipment, training, etc.
As an employer in the 1980s, a manager in non-profit organizations in the early 1990s and self-employed for 20+ years, I have detailed knowledge of previous healthcare insurance costs and coverage. As an employer in the 1980s, I paid for standard 80/20 deductible healthcare insurance for my employees. The cost was about $50 per month per employee, who were mostly in their 20s and 30s. In today's money, that equals $108 per month.
In other words, I have 30+ years of knowledgeable experience with the full (real) costs of healthcare insurance and what is covered by that insurance.
Our grandfathered Kaiser Plan costs $1,217 per month. There is no coverage for medications, eyewear or dental. That is $14,604 per year for two 60-year old adults. We pay a $50 co-pay for any office visit and $10 for lab tests. Maximum out-of-pocket costs per person are $3,500, or $7,000 for the two of us.
We pay $500 per day for all hospital stays and related surgery; out-patient surgery has a $250 co-pay.
So if I suffered a heart attack and was hospitalized and required surgery, I would pay a maximum of $3,500 for services that would be billed out at $100,000 or more were Kaiser providing those services to Medicare.
(Yes, I know Medicare wouldn't pay the full charges, but if Medicare is billed $150,000–not uncommon for a few days in the hospital and surgery– it will pay $80,000+ for a few days in the hospital and related charges. All of this is opaque to the patient, so it's hard to know what's actually billed and paid.)
In other words, this plan offers excellent coverage of major catastrophic expenses and relatively affordable co-pays for all services.
The closest equivalent coverage under Obamacare is Kaiser's Gold Plan. The cost to us is $1,937 per month or $23,244 a year. The Gold Plan covers medications ($50 per prescription for name-brand, $19 for generics) and free preventive-health visits and tests, but otherwise the coverage is inferior: the out-of-pocket limits are $6,350 per person or $12,700 for the two of us. Lab tests are also more expensive, as are X-rays, emergency care co-pays and a host of other typical charges. Specialty doctor's visits have a $50 co-pay.
The Obamacare Gold Plan would cost us $8,640 more per year. This is a 60% increase. It could be argued that the meds coverage is worth more, but since we don't have any meds that cost more than $8 per bottle at Costco (i.e. generics), the coverage is meaningless to us.
The real unsubsidized cost of Obamacare for two healthy adults ($23,244 annually) exceeds the cost of rent or a mortgage for the vast majority of Americans. Please ponder this for a moment: buying healthcare insurance under Obamacare costs as much or more as buying a house.
A close examination of lower-cost Obamacare options (Bronze) reveals that they are simulacra of actual healthcare insurance, facsimiles of coverage rather than meaningful insurance. The coverage requires subscribers to pay 40% of costs after the deductible, which is $9,000 per family. Total maximum out-of-pocket expenses are $12,700 per family. This coverage would cost us $1,150 per month, and considerably less for younger people.
How many families in America have $9,000 in cash to pay the deductibles, plus the $13,800 annual insurance fees? That totals $22,800 per year. If some serious health issue arose, the family would have to come up with $12,700 (out-of-pocket maximum) and $13,800 (annual cost of insurance), or $26,500 annually.
Is healthcare that costs $26,500 per year truly "insurance"? I would say it is very expensive catastrophic insurance in a system with runaway costs.
The entire Obamacare scheme depends on somebody paying stupendous fees for coverage which then subsidizes the costs for lower-income families and individuals. How many households can afford $23,244 a year for Gold coverage plus $12,700 out-of-pocket for a total of $35,944 annually? How many can afford $26,500 for Bronze coverage?
Recall that the median household income in the U.S. is around $50,000.
How many companies can afford to pay almost $2,000 a month for healthcare insurance per employee? Even if employees pay a few hundred dollars a month, the employers are still paying $20,000 a year per (older) employee.
If an employer can hire someone in a country with considerably lower social-welfare/healthcare costs to do the same work as an American costing them $2,000 per month for healthcare insurance, they'd be crazy to keep the worker in America, unless the worker was so young that the Obamacare costs were low or the worker was a contract/free-lance employee who has to pay his own healthcare costs.
Uninformed "progressives" have suggested that "Medicare for all" is the answer. Their ignorance of exactly how Medicare functions is appalling; recall that Medicare is the system in which an estimated 40% of all expenditures are fraudulent, unneccessary or counter-productive, where a few days in the hospital is billed at $120,000 (first-hand knowledge) and a one-hour out-patient operation is billed at $12,000, along with a half-hour wait in a room that's billed at several thousand more dollars for "observation." (Also first-hand knowledge.)
Medicare is the acme of an out-of-control program that invites profiteering, fraud, billing for phantom services, services that add no value to care, and services designed to game the system's guidelines for maximum profit. If an evil genius set out to design a system that provided the least effective care for the highest possible cost while incentivizing the most egregious profiteering and fraud, he would come up with Medicare.
Does Medicare look remotely sustainable to you? Strip out inventory builds and adjustments from imports/exports and the real economy is growing at about 1.5% annually. As noted yesterday in What Does It Take To Be Middle Class?, the real income of the bottom 90% hasn't changed for 40 years, and has declined by 7% since 2000 when adjusted for inflation.
Here is Medicare's twin for under-age-65 care for low-income households, Medicaid: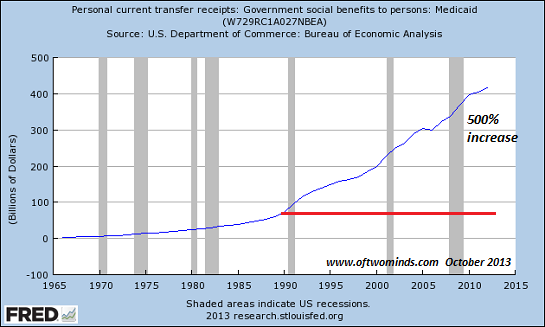 As I have observed for years, Obamacare and Medicare/Medicaid do not tackle the underlying problems of Sickcare costs in America. If you haven't read these analyses, please have a look:
Why "Healthcare Reform" Is Not Reform, Part I (December 28, 2009)
Why "Healthcare Reform" Is Not Reform, Part II (December 29, 2009)
Type sickcare into the custom search box at the top of the left-hand column of the main blog page and you will find dozens of essays addressing what's broken with American healthcare.
Obamacare is a catastrophe that cannot be fixed, because it doesn't fix what's broken in American healthcare. It is a phony reform that extends everything that makes the U.S. healthcare unsustainable sickcare.
via Zero Hedge http://feedproxy.google.com/~r/zerohedge/feed/~3/f7JqdNMLWs0/story01.htm Tyler Durden