Now that the sugar high from the Trump tax cuts has worn off, American small business-owners are growing increasingly anxious about a looming economic slowdown.
After a report published last week by Vistage Worldwide suggested that small-business confidence had collapsed with the number of small business owners worried that the economy could worsen in 2019 numbering more than twice those who expected it to improve, the NFIB Small Business Optimism Index – a widely watched sentiment gauge – apparently confirmed that more business owners are growing fearful that economic conditions might begin to work against them in the coming months.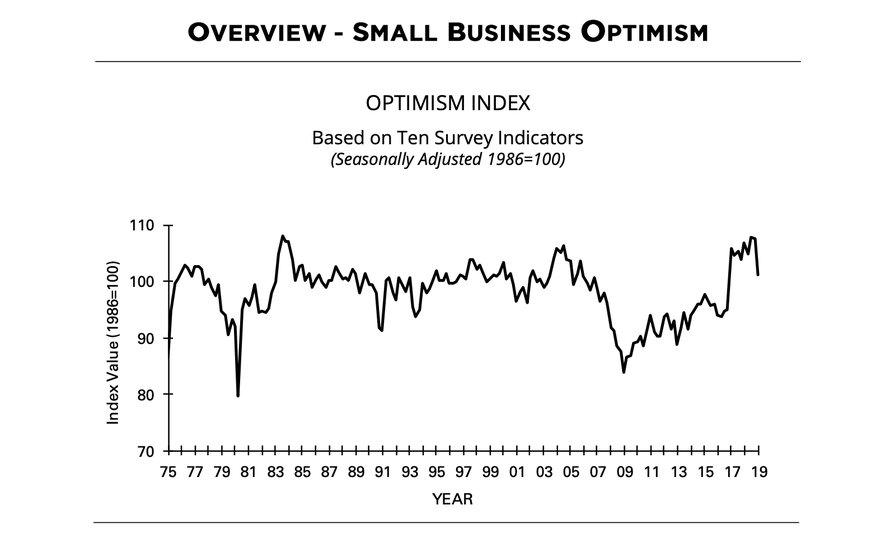 In January, the index slipped 3.2 points in January as more business owners expressed concerns about future economic growth, driving the gauge to a reading of 101.2 – the lowest since the weeks leading up to the 2016 election. Though it remains well above the historical average of 98, and business owners have continued their plans for hiring and investing, a surge in the uncertainty sub-index (which climbed to 86, the fifth highest reading in the NFIB survey's history), suggested that business owners might soon shift their focus from expanding to preserving their businesses.
"Business operations are still very strong, but small business owners' expectations about the future are shaky," said NFIB President and CEO Juanita D. Duggan. "One thing small businesses make clear to us is their dislike for uncertainty, and while they are continuing to create jobs and increase compensation at a frenetic pace, the political climate is affecting how they view the future."
Still, the report wasn't without its silver linings: Small businesses added a net 0.33 workers per firm, the best reading since July 2018, as 15% of owners increased employment an average of 3.1 workers per firm. Some 60% of owners reported making capital outlays, down just one point from December. But owners were worried that sales might start to decline in the near future.
According to Bloomberg, the weak reading suggests that the political stalemate in Washington over Trump's demand for a US-Mexico border wall has harmed sentiment. Notably, the shutdown halted loan applications while the Small Business Administration was closed, while firms struggled to absorb the hit to consumption.
Here are some key takeaways from the NFIB report:
Hiring, hiring plans, and job openings remained strong.
Inventory spending and capital spending were solid.
Owners expressed concerns about future sales growth and business conditions later in the year.
There was some deterioration in conditions that would support business expansion.
The number of business owners reporting higher seasonally-adjusted sales over the past three months was just 4% in January, unchanged from the prior month and tied for the lowest reading in a year. Meanwhile, a shortage of qualified workers remained business owners' top problem.
via ZeroHedge News http://bit.ly/2N0gpTa Tyler Durden