Thousands Of Palestinians Clash With Police In West Bank & Jordan Over Trump's 'Peace Plan'
Tensions in the West Bank and Jordan Valley exploded this week as angry Palestinians protesters clashed with Israeli police in the wake of President Trump unveiling his 'deal of the century' Mideast peace plan on Tuesday.
Thousands of Palestinians were reported in the streets Friday in the occupied West Bank and in Gaza, where Israeli security forces responded to rock throwing and burning tires with tear gas and other riot control measures. An estimated 48 Palestinians and one Israeli soldier were injured in the unrest.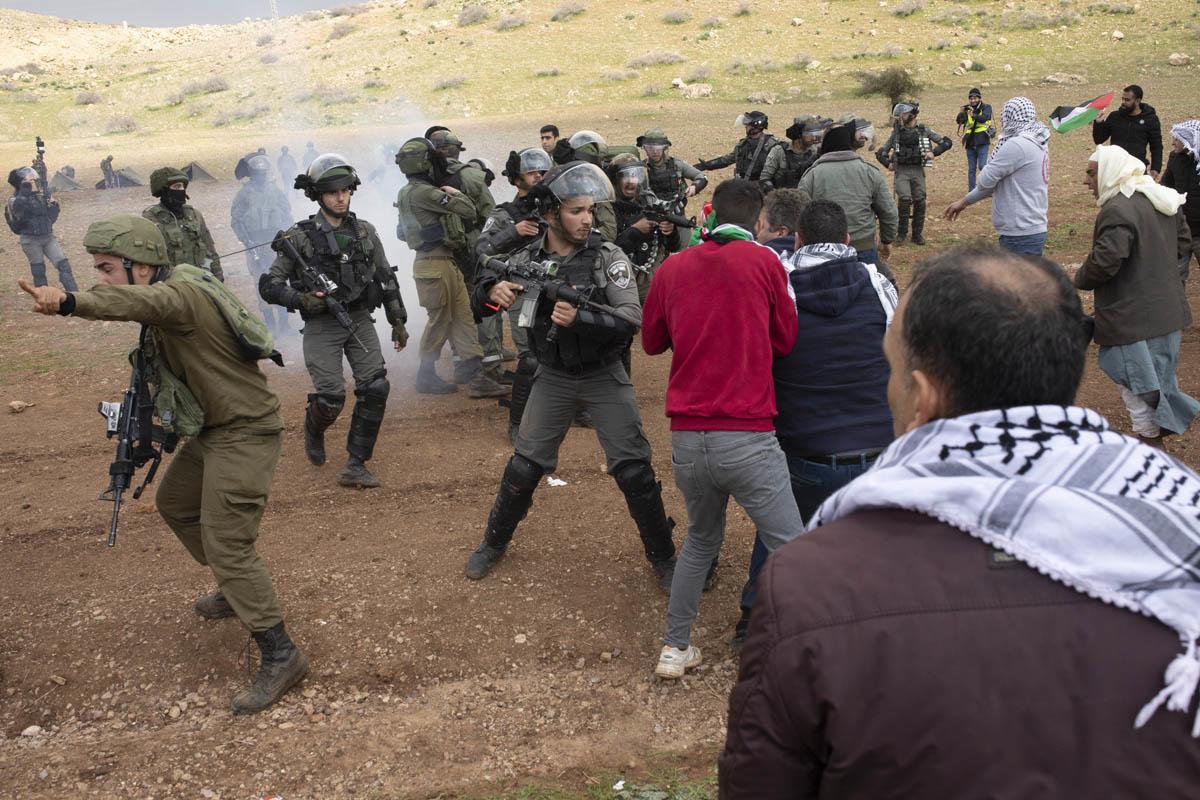 Some 300 also protested in front of the US Embassy in Amman, Jordan where chants of "Death to Israel" were heard. Demonstrators carried signs reading "Down with the deal of the century" and shouted further chants of "Listen, damn Trump, Palestine is not for sale," according to The Times of Israel. 
There's been similar sporadic clashes all week especially given the White House plan gives Israel 'annexation' rights over at least 30% of West Bank territory. This after the Palestinian Authority (PA) and Hamas were not even privy to negotiations related to the deal, which has been rejected by both Mahmoud Abbas and Hamas. 
The deal also controversially cuts Palestinians out of control over holy sites of the Old City in Jerusalem, while claiming to offer parts of the city's eastern sector to serve as capital of a future Palestinian state, but only if certain "conditions are met" long term. 
#PalestineDealRejected
Palestinians protest the Trump administration's Deal of the Century, Northern Jordan Valley, West Bank. pic.twitter.com/SydAbROKuO

— Sajjad Bhatti 🇵🇰️ (@EbnePakistan) January 30, 2020
Other protests in neighboring Jordan, where Palestinian refugees actually far outnumber Jordanian Arabs, were said to be huge in size: 
In neighboring Jordan, thousands of people took to the streets after Friday prayers to protest the plan. Jordan, a close US ally and key player in previous peace efforts, has warned Israel against annexing territory in the West Bank under the plan. Jordan and Egypt are the only two Arab countries to have signed peace agreements with Israel.
However, Israeli police reported being surprised that Friday prayers at al-Aqsa Mosque atop the Temple Mount passed without major incident. Police were prepared with significantly heightened security as over 30,000 Palestinians attended noon prayers. 
Local media reports that "Besides the increased police presence around the Temple Mount, the IDF this week deployed extra troops to the West Bank and along the Gaza border out of concerns of increased violence over the US peace plan."
NEW VIDEO: U.S. Ambassador to Israel David Friedman tells me Mideast Peace Plan means, "no retreat by the Jewish state from biblical territory." @USAmbIsrael adds, "you're talking about opening up the Bible, bringing it back to life in ways that…couldn't have even imagined." pic.twitter.com/9ZsGFrptrJ

— David Brody (@DavidBrodyCBN) January 30, 2020
But things could be ready to come to a head over the weekend, given that Netanyahu announced this week that Israel will move forward to vote Sunday to annex some 30% of all West Bank territory.
Netanyahu said that "Israel will apply its laws to the Jordan Valley and to the Jewish communities in Judea and Samaria." 
"We will not allow this deal to pass"

Palestinians gear up for mass protests to denounce Trump's Israel-Palestine plan, which they say is an attempt to finish off their cause. pic.twitter.com/6huGvATeiA

— Middle East Eye (@MiddleEastEye) January 28, 2020
This means a million or so Palestinian residents could come under Israeli rule, which sparked a fierce backlash both internationally and among some members of US Congress. 
If the Knesset move progresses, likely all of the West Bank and Gaza will explode in fresh popular unrest and anger.

Tyler Durden

Fri, 01/31/2020 – 18:45
via ZeroHedge News https://ift.tt/36NAkgt Tyler Durden