Iranian Hackers Posed As "Proud Boys" During 2020 Election Disinformation Campaign, FBI Says
Members of the 'Proud Boys' have been arrested for scuffling with Antifa, and the group has been de-platformed by every major tech platform for its "racist" views (members of the group proudly claim to be 'male chauvinists', although they would also vehemently dispute accusations of racism) while the left-wing media constantly held it up as a right-wing boogeyman.
But as it turns out, a group of Iranian hackers purportedly posed as members of the Proud Boys during a cyber misinformation campaign dedicated to interfering in the 2020 US election, according to a briefing released by the FBI this week warning the public about the activities of Iranian hacker collective, which is called Emennett Pasargad.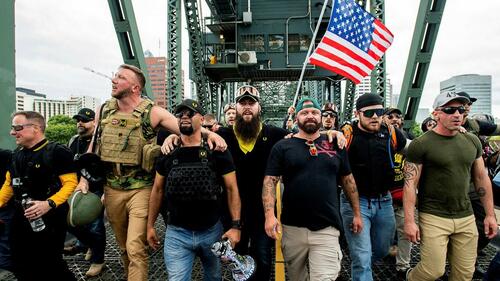 The notice describing the Iranian group's tactics and techniques was released months after an October grand jury indictment of two Iranian nationals allegedly employed by the group. The indictment had been sought by federal prosecutors with the Southern District of New York.
According to the FBI, Emennett Pasargad has conducted "traditional cyber exploitation activity" since 2018, and has targeted news, shipping, travel, oil, financial and telecommunications companies, including companies in the US, Europe and beyond.
But in 2020, they carried out a "multi-faceted campaign to interfere in the US election".
As part of this campaign, they obtained confidential information on voters from at least one state election website; sent threatening e-mails to try and intimidate voters, created and disseminated a video containing "disinformation" about nonexistent vulnerabilities about America's voting system, and attempted to access, without authorization, several states' voting-related websites.
The group also successfully accessed the network of a major US media company without permission. Members posed as Proud Boys while carrying out their "voter intimation"-related activities, the FBI said.
In addition to interfering in the 2020 vote, Emennet has also conducted cyber disnformation campaigns against Saudi Arabia, during which the group "masqueraded" as the "Yemen Cyber Army".
Members of the group mask their activity by deploying attacks through virtual private networks, or VPNs. The bureau said Emennet favors websites that run certain software programs, including WordPress, which hackers can exploit to carry out their attacks.
Tyler Durden
Thu, 01/27/2022 – 23:20
via ZeroHedge News https://ift.tt/3g1VD4X Tyler Durden