"Looks Like A Battlefield": Third Fuel Tank At Major Cuban Storage Facility Ignites
Cuba struggled for a fourth day Monday to contain a massive blaze at a fuel depot in the northern part of the country. The depot supplies the largest power plant in the communist country — there are no indications yet if crude supplies to the thermoelectric plant have been disrupted.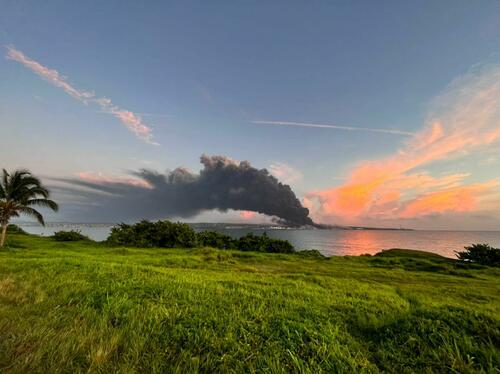 Cuban Army helicopters circled the Matanzas industrial complex on Monday, dumping water on the blaze with specialized buckets, though efforts to contain the blaze appear to have failed as a third tank caught fire. 
"The third tank also collapsed, after fuel spilled from the second, further compromising the situation in the early hours of the morning," the Cuban presidency tweeted Monday. 

Bloomberg reports two other tanks caught fire over the weekend. The reason behind the fire appears to be a "lightning strike" on one of the tanks. 
Two storage tanks — one containing 26,000 cubic meters of petroleum and another containing some 50,000 cubic meters of fuel oil — caught fire Friday night after lightning hit the complex. Venezuelan, Mexican and Cuban firefighters have been trying to contain the blaze as officials say they have managed to siphon off at least 520 cubic meters of fuel oil. It was not immediately clear how much, or what type, of fuel the third tank contained. -Bloomberg
Cuban state-run media reported today at least one person is dead, 125 injured, and dozens missing. 
NOTICIAS DE CUBA HOY: 🇨🇺🇨🇺🇨🇺 El Hiroshima y Nagasaki de #Cuba . Fuertes imágenes desde #Matanzas pic.twitter.com/scDI2NBDEE

— Noticias de Cuba Hoy🇨🇺 (@noticubahoy) August 8, 2022
The Matanzas complex — on Cuba's northern coast — is located about 56 miles east of Havana. The fuel depot supplies the Antonio Guiteras thermoelectric plant, the largest in the communist nation. There's no word on how much fuel has been lost.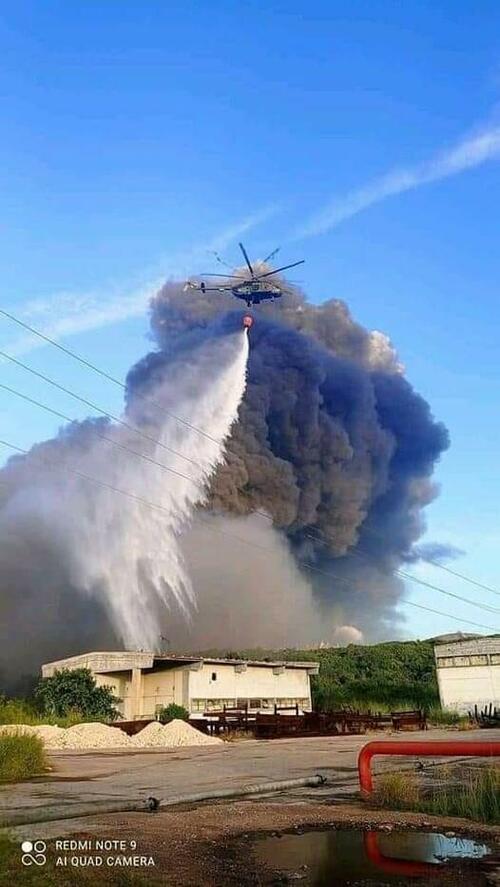 "It looks like a battlefield. I don't even believe what my eyes are seeing," a Matanzas resident told US journalist Mario J. Pentón.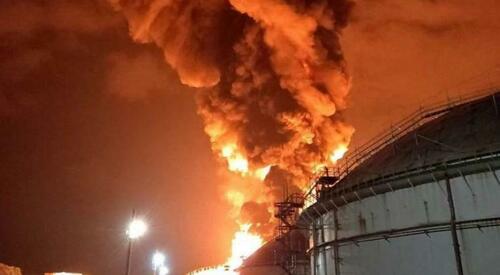 The thermoelectric plant sparks our attention because it provides a fifth of the country's power needs via large amounts of heavy crude oil from the Matanzas complex to power generators. This disaster comes as power grid failures have been rampant due to fuel shortages, forcing grid operators to impose widespread energy blackouts in some areas of the country for up to 12 hours since May. 
Cash-strapped Cuba recently said there are no near-term solutions to blackouts that have triggered protests. Cuba imports half of its crude oil, mainly from Venezuela, and if storage facilities like Matanzas are damaged, it could bring forward even more power disruptions and unrest. 
Cuba could be on a collision course with even more socio-economic instabilities if it cannot get its electrical system back in order. So what comes next? A regime change?
And also, one last question… Was the storage facility struck by "lightning," or perhaps maybe sabotaged?
Tyler Durden
Mon, 08/08/2022 – 14:45
via ZeroHedge News https://ift.tt/B491FbU Tyler Durden