IPO Market Shattered By Banking Crisis
Prior to Silicon Valley Bank's collapse, US funding markets were already facing difficulties, with startup CEOs concentrating on cutting expenses and protecting their dwindling cash reserves. The downturn in IPOs directly resulted from Fed Chair Powell's aggressive interest rate hikes. With the added impact of the SVB debacle, the US and global IPO markets have come to a standstill. 
Bloomberg data shows companies worldwide raised a paltry $19.7 billion via IPOs in 2023. That's down a staggering 70% year-on-year and the lowest comparable amount since 2019. The most significant decline was in the US, where only $3.2 billion has been raised. The subdued activity will likely remain locked in place until easier monetary conditions are seen.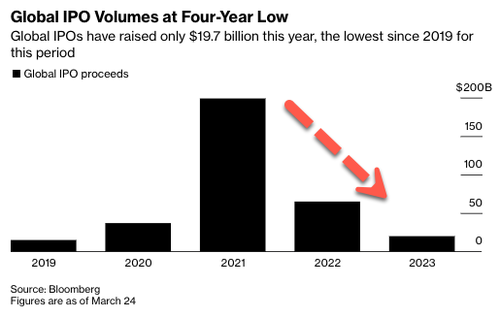 "Rates is the number one issue, and there is a clear debate around how long the tightening lasts or changes direction and at what speed," Udhay Furtado, co-head of ECM, Asia Pacific at Citigroup Inc., told Bloomberg. 
"There are a number of things people will need to see, including central bank direction, to ascertain whether it's the second, third, or fourth quarter," Furtado said, referring to when IPO deals might restart. 
Last week, we pointed out that funding challenges for startups pose a problem for venture capital funds that paid record-high prices for these companies, as they cannot offload their positions to retail in the secondary market. 
For the last year, readers have been well-informed about the drought in offerings (recall: "IPOs Vanish As Market Mayhem Saps Deal Appetite").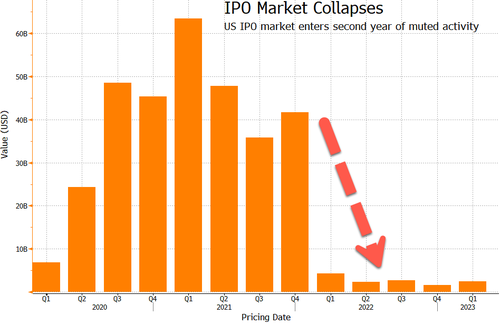 Turmoil in the IPO markets is creating massive problems:
"We've been stalled for more than a year.

"It caught people off guard because they didn't expect to not have the ability to IPO in this amount of time," said Patricia Adams, a partner at Vinson & Elkins LLP. 
On a positive note, secondary offerings have surged $76 billion this year, a 48% increase from a year ago, Bloomberg data show. Companies have also turned to convertible bonds, which allow them to borrow more cheaply, given the securities have a call option. 
Returning to SVB, the bank had been a major player in the venture debt space, offering loans to high-risk, early-stage companies. However, with SVB no longer in the picture, it is widely anticipated that such capital will be scarcer and more costly. We spoke with one Wall Street firm about the changing landscape of funding in the VC space — who said large investment banks, such as Goldman, are now stepping in to fill the gap left by SVB, providing funding lines to cash-strapped startups at deep valuation discounts. 
Tyler Durden
Sun, 03/26/2023 – 14:00
via ZeroHedge News https://ift.tt/1WKlHTi Tyler Durden