"Infuriating": College Tuition Made Free For Illegal Immigrants In Minnesota
Authored by Naveen Anthrapully via The Epoch Times,
Minnesota has approved legislation that would allow illegal immigrants to benefit from the state's education aid program offering to make tuition 100 percent free in higher education.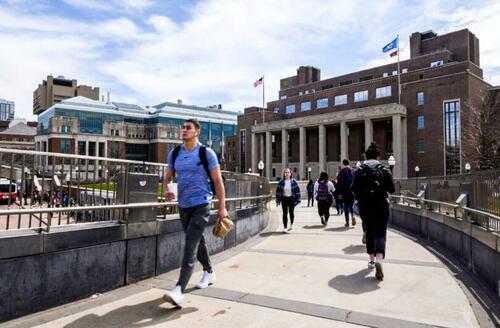 HF 2073 is a bill related to higher education, which includes the North Star Promise tuition fee program. North Star Promise allows eligible students in the state, including illegal immigrants, to be eligible for 100 percent free college tuition, provided their family adjusted gross income is less than $80,000. The tuition fee is applicable for enrollees in a two- or four-year program within the University of Minnesota or the Minnesota state systems.
The bill passed both the state House and Senate, with Governor Tim Walz, a Democrat, approving the program on May 24. The legislature's Democratic majority had voted in support of the bill.
Applicants should have graduated from a Minnesota high school or must have lived within the state for at least a year without getting enrolled in college for six months. They also should have applied for Free Application for Federal Student Aid (FAFSA) or state aid.
North Star Promise will begin in the 2024–25 academic year. It will cost roughly $117 million in the fiscal year beginning July 1, following which it is estimated to cost around $49.5 million every year. The program will only cover tuition costs left after deducting state and federal grants as well as institutional scholarships.
"INFURIATING: While middle-class students who were born in the U.S. or came here legally have to pay their own tuition, illegal aliens in Minnesota get free tuition," @amuse, the author of Politique Republic substack, stated in a tweet on June 3.
Support and Criticism of North Star Promise
Democrats insist that HF 2073 would boost enrollment at universities.
"We've been seeing declining enrollment on all campuses," said Senate Higher Education committee chair Omar Fateh, a Democrat, according to the Associated Press.

"If we don't do something quick, we're at risk of shutting down some campuses … I see this bill as an enrollment driver."
Fateh insisted that the bill will provide opportunities for all Minnesotans, regardless of their background or documentation status.
However, some Republicans have criticized the program, pointing out that the $80,000 limit is unfair to students whose parents may be working multiple jobs but could still use financial aid.
Representative Marion O'Neill, the only Republican on the Senate Higher Education Committee, said that she was "completely frozen out of all discussions."
The Minnesota legislature passed HF 2073 just days after the expiration of Title 42, a Trump-era policy that was used by the government to turn away illegal migrants following the COVID-19 pandemic.
Administering the Program
It is unclear how many undocumented students will qualify for the North Star Promise. Neither the Department of Higher Education nor Fateh gave an estimate when contacted by Axios.
According to the department, around 600 people had applied for the Minnesota Dream Act for the 2021–22 period. A little more than 300 individuals received state grants, with the average grant totaling $2,400 for the fall term. Under the Minnesota Dream Act, qualifying students become eligible for state financial aid and in-state tuition rates.
Students who submit an application for the Minnesota Dream Act or a FAFSA for the 2024–25 school year will automatically be considered for the North Star Promise free tuition program. Eligible students will be notified about the financial aid package, a spokesperson from the department told the outlet.
California also has a similar education aid program that can benefit illegal immigrants. According to a March 2023 report from the California Student Aid Commission (CSAC), "More than half of California's undocumented students in postsecondary education (53 percent) do not fill out a California Dream Act Application (CADAA), the counterpart to the Free Application for Federal Student Aid (FAFSA) which is used to determine financial aid eligibility and administer state aid for undocumented students."
Per the 2021–22 data, only 30 percent of undocumented students in postsecondary education who fill out a CADAA ultimately enroll and receive state financial aid.
"And overall, only 14 percent of California's estimated undocumented student population in postsecondary education receives financial aid to support their higher education goals," the report said.
Tyler Durden
Tue, 06/06/2023 – 12:05
via ZeroHedge News https://ift.tt/PCZEgR7 Tyler Durden