Estes' $1.525BN Stalking Horse Bid For Yellow's Terminals Wins Out
By Todd Maiden of FreightWaves
An order was entered in a Delaware bankruptcy court Thursday naming less-than-truckload carrier Estes Express Lines' $1.525 billion stalking horse bid as the winning offer of Yellow Corp.'s portfolio of owned terminals.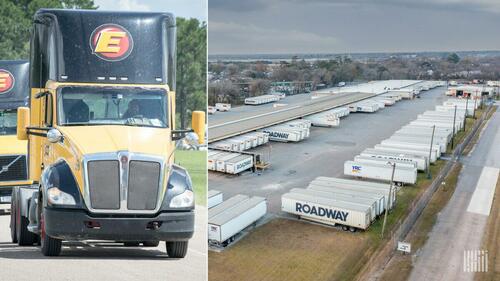 Bid protections for Estes were also approved, including a $7.5 million breakup fee and expense reimbursement up to $1.6 million.
Yellow filed for bankruptcy on Aug. 6 after failing to reach terms with its union workers on a proposed change of operations it said was vital to its survival.
Last week Estes submitted the bid, which eclipsed a $1.5 billion offer from rival LTL carrier Old Dominion Freight Line. Estes' proposal also came with lower bid protections. The carrier kicked off the bidding with an initial offer of $1.3 billion.
The bid sets the price floor for Yellow's service centers. Estes is unlikely to walk away with all 174 terminals as a full sales process will still occur. The bid deadline for the terminals is set for Nov. 9, with an auction expected to take place on Nov. 28 if needed.
A hearing held last week revealed that initial indications of interest for some of the real estate has been as much as two to 11 times the appraised value. At the hearing, counsel for Yellow also said that the proceeds from the terminal sales will likely be more than enough to repay all outstanding amounts due to secured creditors.
The company's unsecured claims, however, may garner more interest moving forward. A recent filing with the Securities and Exchange Commission said Yellow's pension fund withdrawal liabilities could top $6.5 billion.
The International Brotherhood of Teamsters, which represents roughly 22,000 former Yellow workers, was vocal this week, calling for the U.S. Senate to investigate the company's bankruptcy as a judiciary committee looks more broadly at bankruptcy reform.
Up next on the auction block is Yellow's owned rolling stock, which includes nearly 12,000 tractors and 35,000 trailers. A deadline for equipment bids has been set for Oct. 13, with an auction set to occur on Oct. 18 if needed.
Tyler Durden
Thu, 09/21/2023 – 21:00
via ZeroHedge News https://ift.tt/ogdJIi6 Tyler Durden