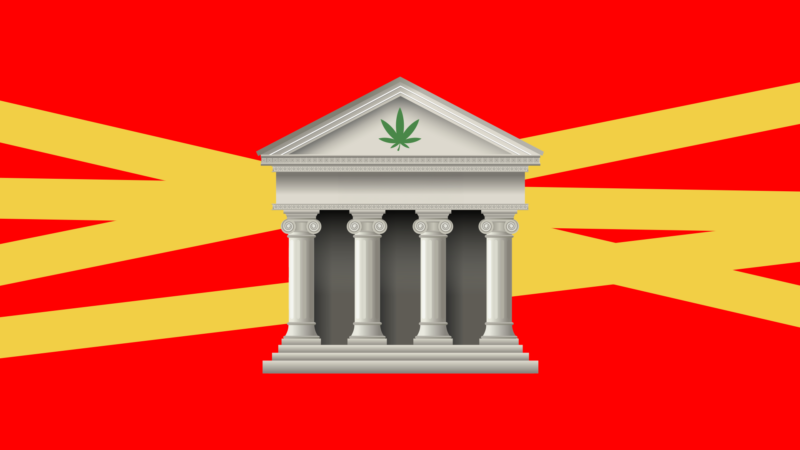 Last week, the Senate Committee on Banking, Housing, and Urban Affairs held a markup of the SAFER Banking Act, a long-discussed and multiple-times House-passed bill. This bill would give state-legal cannabis businesses the ability to use traditional banking services without running afoul of federal law. As Chair Rep. Sherrod Brown (D–Ohio) noted at the outset of the markup, "Regardless of how you feel about states' efforts to legalize marijuana – I'll say it again, regardless about how you feel about states' efforts to legalize marijuana – this bipartisan bill is necessary. It will make it safer for legal cannabis businesses and service providers to operate, to protect their workers first and foremost, and to operate in their communities." 
This statement rings true for folks on any side of the marijuana debate, and the broad consensus in favor of the bill denotes what a needed step this is toward aligning federal law with state law. Importantly, it remedies many current public safety threats in the cannabis landscape.
Rightsizing the cannabis banking issue is critical to protecting communities and local businesses and recognizing the reality of the cannabis landscape nationwide. The markup last week was the first time the Senate has taken action on this issue since it was first proposed by both Republicans and Democrats in the upper chamber in 2017. This is a common sense remedy to the problem that Sen. Jeff Merkley (D–Ore.) noted: "A cash economy is great if you're a criminal…. A cash economy is great for organized crime." That is a reality that none of us should want.
Currently, the dual legality of cannabis laws between the federal government and the 38 states that have some form of legal cannabis poses a significant public safety threat to communities. Federal law—which still classifies cannabis as a Schedule I narcotic—prohibits banks from offering services to the industry, forcing businesses to operate in cash. Although the federal government has mostly maintained a de jure policy of respecting states' decisions on cannabis since 2013, this does not apply to federally regulated banks. The newest Republican lead, Sen. Steve Daines (R–Mont.), spoke directly to the problem this creates, explaining how excluding cannabis from proper banking forces "the current all-cash model of legal cannabis businesses makes them targets for theft, for tax evasion, and for organized crime." The targeted crime resulting from the presence of so much cash on hand sometimes even leads to death.
Such targeted violence can be avoided simply by allowing state-legal cannabis businesses to bank as other industries do. But passing the SAFER Banking Act has benefits beyond removing the immediate vulnerabilities that cannabis businesses, workers, and customers currently experience. The all-cash model also makes it difficult for employees to prove their income, which can leave them struggling to qualify for mortgages or loans, or even attain basic housing. The SAFER Banking Act could remove these unnecessary barriers to prosperity. 
Representatives from both parties reiterated clearly throughout the markup that this legislation is not about taking action on broader criminal justice reform measures or imposing any policies on states. Sen. Daines said in his opening statement, "I am opposed to the legalization or decriminalization of marijuana, but the SAFER Banking Act is not about that…This bill is about public safety first and foremost." Sen. Catherine Cortez Masto (D–Nev.), who noted that her state has the second-highest legal cannabis sales in the nation, concluded that "operating as cash-only businesses is cumbersome and dangerous." Senators who may otherwise disagree about cannabis legislation could concur—cash-only businesses are vulnerable to crime, and the legislature should act.
When this bill moves forward to the Senate floor, Majority Leader Chuck Schumer (D–N.Y.) has pledged to bring it up alongside expungement legislation called the HOPE Act, which would similarly recognize the realities of state laws and improve public safety by supporting efforts to clear certain cannabis offenses from criminal records in states where those offenses are no longer crimes. Such a measure would offer a similar level of federal recognition of the changing landscape of cannabis regulations in the states, without placing any mandates on states or taking sides on the larger debate on descheduling. The SAFER Banking Act is a common-sense middle ground to begin reasonable discussions around the best path forward on cannabis.
Amid so much turmoil in our nation's legislative bodies, it's encouraging to see productive bipartisan action in Congress around an issue affecting residents of 38 states directly—and the remaining 12 indirectly. The country will be watching hopefully as this legislation makes its way toward becoming law, with input from all parties, and with public safety considered above all.
The post Both Parties Agree the Marijuana Industry Status Quo Is Untenable appeared first on Reason.com.
from Latest https://ift.tt/WuDaqlM
via IFTTT