WTI Tumbles To 1-Month Lows As Gasoline Demand Plunges
Oil prices are plunging overnight as worsening sentiment across markets over the last few days, spurred by a higher-for-longer outlook for global interest rates, has trumped any physical tightness fears even as Saudi Arabia and Russia reaffirmed that they will continue output curbs until the end of the year.
API
Crude -4.21mm (unch exp)

Cushing +705k

Gasoline +3.95mm (+300k exp)

Distillates +349k (-400k exp)
DOE
Crude -2.22mm (unch exp)

Cushing +132k

Gasoline +6.48mm (+300k exp)

Distillates -1.27mm (-400k exp)
Crude inventories fell for the 3rd strauight week but stocks at the Cushing hub rose (+132k) for the first time in 8 weeks. Gasoline stocks soared by almost 6.5mm barrels – the biggest weekly build since Jan 2022…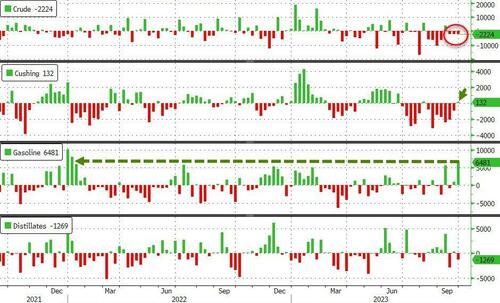 Source: Bloomberg
The Biden admin returned to refilling the SPR last week – adding 300k barrels after the prior week's drain…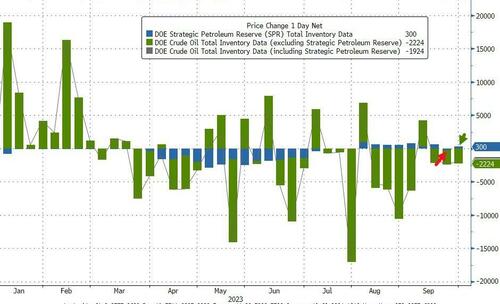 Source: Bloomberg
Stocks at the Cushing hub rose very marginally, keeping 'tank bottom' fears at bay for one more week…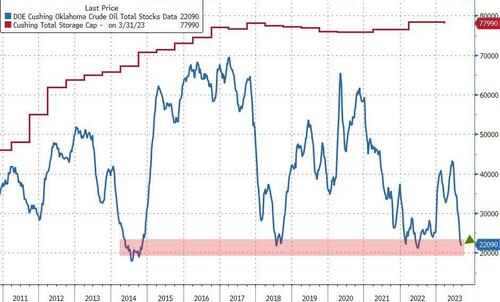 Source: Bloomberg
US Crude production was flat at 12.9mm b/d (pre-COVID highs) as the rig count continues to tumble…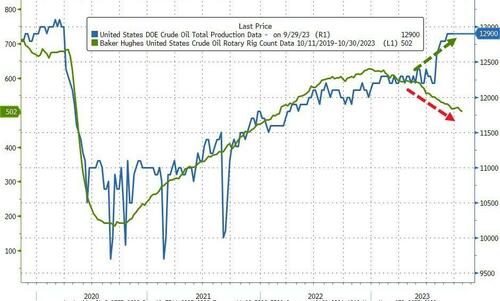 Source: Bloomberg
BUT, Gasoline demand continues to plunge, breaking well below 2022 seasonal levels on both a weekly and four-week average basis last week.
In fact, that actually puts it at lowest seasonal level since 1997 and nearly 1 million barrels a day below the 5-year average.
Sky high pump prices are clearly weighing on demand…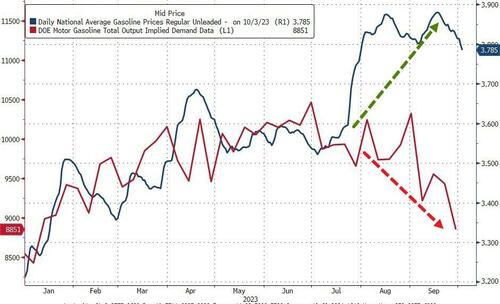 WTI was trading just below $87 ahead of the official data and slid lower after…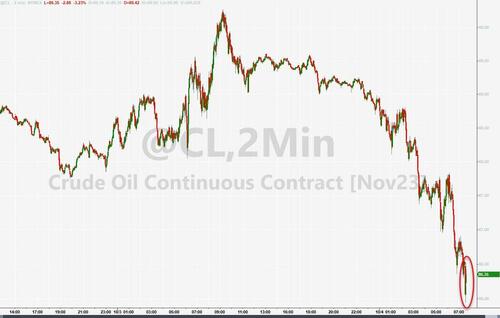 "Eventually it will be time to 'sell the recession news' in oil as demand tends to fall off sharply amid the onset of an economic downturn, but the evidence does not definitively suggest we are at that point just yet," said Tyler Richey, co-editor at Sevens Report Research.
Tyler Durden
Wed, 10/04/2023 – 10:43
via ZeroHedge News https://ift.tt/1hSCOz6 Tyler Durden