CBOE CEO Aims To List Additional Tokens As Institutions Seek Reliable Crypto Counterparties
It's a vote of confidence for crypto when the space needs it most…
Ed Tilly, Chief Executive Officer at Cboe Global Markets Inc., said this week he wants to list more token on the company's crypto exchange in the wake of the FTX blowup and additional, ongoing blowups in the space.
Tilly said this week that established firms from the traditional world of finance are seeking "reliable counterparties" and that his company wants to "capitalize" on that demand, a report from Bloomberg said on Thursday.
Bitcoin, Bitcoin Cash, Ether, Litecoin and USD Coin already trade on Cboe Digital, the report says.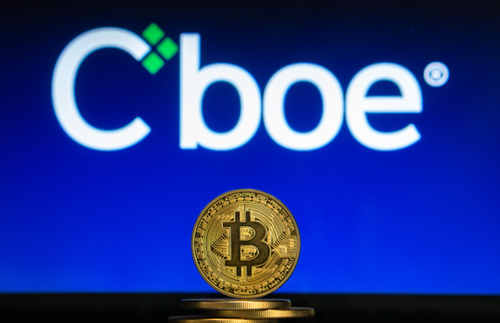 In terms of an opportunistic business opportunity, the timing couldn't be better for Cboe now that major exchange FTX has collapsed and is currently in the midst of bankruptcy proceedings. Cboe would likely have an opportunity not only to capture some of FTX's business, but to help restore credibility to crypto in general. 
The Commodity Futures Trading Commission and Securities & Exchange Commission are now seeking to regulate crypto, the report says, would could add another much-needed layer of credibility to the space. 
Tilly commented: "We will be taking this slowly as the SEC and the CFTC debate jurisdictional oversight, but our goal is, of course, to offer more and more exposures than the current five tokens we do today."
The report says that Cboe "is also planning to list margin futures on its CFTC-regulated entity, and is working to get approval from the regulator" to do so. The details of these contracts were described by Bloomberg: 
These contracts would be less capital intensive to trade and would require a broker as intermediary.  The bourse's current Bitcoin and Ether futures require customers to outlay the full amount of the contract upfront. The margin model, used in the commodities markets, requires just a percentage of the total as collateral.
Tyler Durden
Fri, 01/27/2023 – 09:14
via ZeroHedge News https://ift.tt/1lR2YEP Tyler Durden