16 Terrorists On FBI Watchlist Crossed Southern Border In February Alone; CBP Data Shows
Authored by Steve Watson via Summit News,
Fresh data from Customs and Border Protection has revealed that sixteen people matched to the FBI's terrorist watchlist were apprehended by Border Patrol agents in February alone.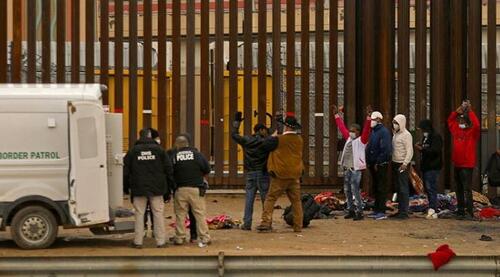 As reported by Fox News, the total number of individuals on the watchlist found to be attempting to enter the country so far this fiscal year is now 69.
CBP expects the trend to continue, and to smash last fiscal year's record 98 encounters.
Between FY17 and FY20 there were only 8 of these terror watchlist arrests, and in 2021 only 15.
NEW: CBP data reveals Border Patrol arrested 16 people on the FBI's terror watchlist who crossed illegally at the southern border in February, bringing total terror watchlist arrests for FY'23 (so far) to 69.

FY'23 is on pace to beat FY'22, which had 98, an all time record.… https://t.co/k80jfpo2xi

— Bill Melugin (@BillFOXLA) March 16, 2023
Federal Data Quietly Reveals 100 Terror Suspects Caught At Southern Border
When border the Southern and Northern borders are taken into account, FY23 has seen 214 people in the Terrorist Screening Database stopped by CBP agents to date. Last year, the total was 380, yet the year before that there were only 157 encounters.
Last year, the FBI arrested an Iraqi man who was plotting to smuggle ISIS operatives into the U.S. through the southern border in a plan to assassinate George Bush. He also claimed to have just successfully smuggled two Hezbollah fighters into the U.S. https://t.co/vPPdsYOdrS https://t.co/XiDVCMpbIl

— Bill Melugin (@BillFOXLA) March 17, 2023
The Department of Homeland Security says the border is secure and claims that the biggest terror threat the U.S. faces is 'domestic extremists' radicalised by "false narratives propagated on online platforms."
DHS Chief Says Biggest Terror Threat is Americans Radicalized by 'Online Narratives'
The latest data shows that on the whole, CBP apprehended 128,877 people who crossed the border illegally in January and another 128,913 in February.
Those figures are down from December when a record amount of illegal crossings were recorded, as 251,487 illegal immigrants crossed, marking the highest monthly total in history. A total of 17 individuals on the terrorism watchlist were apprehended.
CBP Figures Show Highest Monthly Total Of Illegal Crossings EVER Recorded
Last week, during testimony before the House, Border Patrol chief Raúl Ortiz contradicted Biden administration officials by stating that there is a full on crisis on the southern border, urging that it is not secure, and calling for a wall to be built.
Video: Border Patrol Chief Testifies Border Is Not Secure, Wall Needed
Ortiz noted that there have already been approximately 385,000 known gotaways at the border since fiscal year 2023 began on Oct 1. That is in addition to 600,000 in FY'22, and 390,000 in FY'21. There have been approximately 1.4 million gotaways since start of FY'21.
Border Patrol Chief Raul Ortiz says there have been 385,000 known "gotaways" who escaped past Border Patrol into the country already this fiscal year — and he says that number is likely "between 10% and 20%" higher. pic.twitter.com/2na49tH9di

— RNC Research (@RNCResearch) March 15, 2023
Meanwhile:
EXCLUSIVE: Defense Department spending nearly $50 million a year to store unused border wall materials, drawing GOP backlash https://t.co/KNck0lt5CE

— Kyle Morris (@RealKyleMorris) March 16, 2023
"At present, over 20,000 border wall sections, otherwise known as bollard panels, lie unused at 20 project sites across southern Arizona and New Mexico," the senators wrote. "Every day, the Department of Defense pays $130,000 to store, maintain, and secure these materials."

— Kyle Morris (@RealKyleMorris) March 16, 2023
*  *  *
Brand new merch now available! Get it at https://www.pjwshop.com/
In the age of mass Silicon Valley censorship It is crucial that we stay in touch. We need you to sign up for our free newsletter here. Support our sponsor – Turbo Force – a supercharged boost of clean energy without the comedown. Also, we urgently need your financial support here.
Tyler Durden
Mon, 03/20/2023 – 17:40
via ZeroHedge News https://ift.tt/VP1aDo4 Tyler Durden