Russia Test-Fires Supersonic Anti-Ship Cruise Missiles In Sea Of Japan
Russia's military has test-fired what its defense ministry (MoD) is describing as a supersonic missile, launching it into the Sea of Japan on Tuesday.
The MoD confirmed in a Telegram announcement that its ships of the Pacific Fleet successfully fired two "Moskit cruise missiles at a mock enemy sea target" – hitting the mock warship from a distance of about 62 miles. Crucially the Moskit is capable of carrying a nuclear warhead.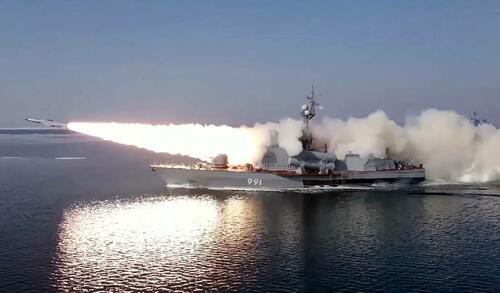 According to details in the AP, "The Moskit, whose NATO reporting name is the SS-N-22 Sunburn, is a supersonic anti-ship cruise missile that has conventional and nuclear warhead capacity."
"The Soviet-built cruise missile is capable of flying at three times the speed of sound and has a range of up to 250 kilometers (155 miles)," the report adds. "Supersonic" is a designation below "hypersonic" – given the latter denotes speeds of at least five times the speed of sound.
Japan's foreign ministry said it doesn't intend to protest the missile launch given it occurred near coastal Russia, but a statement still stressed, "On the whole, Japan is concerned about Russia's increasing military activities around the Japanese coasts and watching them with great interest."
According to Axios in reference to the newly disclosed test launch:
"The announcement comes one week after two Russian strategic bomber planes capable of carrying nuclear weapons flew over the Sea of Japan for over seven hours while the Japanese prime minister was visiting Ukraine."
Concerning recent rising tensions between Russian and Japan over disputed islands between the two countries, AP reviews further that "In September, Japan protested multinational military exercises on the Russian-held Kuril Islands — some of which are claimed by Japan — and expressed concern about Russian and Chinese warships conducting shooting drills in the Sea of Japan." And in addition, "Russia also tested submarine-launched missiles in the Sea of Japan last year."
Tyler Durden
Tue, 03/28/2023 – 19:25
via ZeroHedge News https://ift.tt/bkfFJpS Tyler Durden