US Lawmakers Publish 10 Ways To Prepare For War With China Over Taiwan
The House China Committee this week published a list of ten bipartisan recommendations to deter China from attacking Taiwan. These are being officially recommended for inclusion in the fiscal 2024 National Defense Authorization Act.
The list is said to be the result of conclusions reached during April 'table top' war games conducted by the hawkish Center for a New American Security.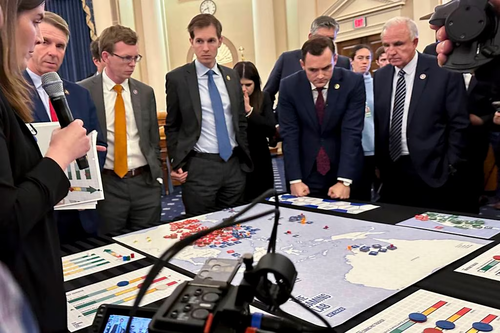 "At the select committee's Taiwan war game, we saw the terrifying result of deterrence failure," Representative Mike Gallagher (R-WI) said ahead ahead of the vote to approve advancing the measures.
"If we want to have a hope of stopping World War III, we need to arm Taiwan to the teeth right now. We must clear the embarrassment that is the $19 billion [foreign military sale] backlog," he added.
The panel shared the 10 recommendations as follows:
1. Manufacture & supply more long-range missiles to the Indo-Pacific region

2. Devise severe economic costs in concert with our allies ahead of time, should China act against Taiwan

3. Expand combined military training between the United States and Taiwan

4. Deliver the $19 billion of backlogged military equipment and weapons that Taiwan ordered from the United States

5. Establish a US military Joint Task Force or Joint Force HQ for crisis command and control in Indo-Pacific Command

6. Enhance cyber resiliency in US critical infrastructure, especially at port, air, and rail facilities with emphasis on military mobility

7. Help train Taiwan to strengthen its own cybersecurity

8. Create a US-Taiwan Combined Planning Group to build stronger relationships between our defense forces

9. Strengthen US military posture in the region by expanding bases with allies, hardening fuel depots, and enhancing logistics

10. Expand Taiwan's military stockpiles and resiliency to attack
Of course, there are many other analysts who would point out that "arming to the teeth" and independent breakaway island in China's own backyard is precisely what could usher in WW3, akin to the years-long Western involvement in Ukraine and how this provoked Russia. 
TEN FOR TAIWAN: This morning the Select Committee adopted 10 bipartisan policy recommendations for the 118th Congress, which will surge hard power across the international dateline and strengthen deterrence in the Taiwan Strait.

📄Read the full report: https://t.co/Zm6EeaQnjX pic.twitter.com/NTbLtp1F64

— The Select Committee on the CCP (@committeeonccp) May 24, 2023
Notably, Rep. Andy Kim (D-N.J.) was the only "no" vote for the proposals.
Tyler Durden
Fri, 05/26/2023 – 16:40
via ZeroHedge News https://ift.tt/6AFfwjZ Tyler Durden