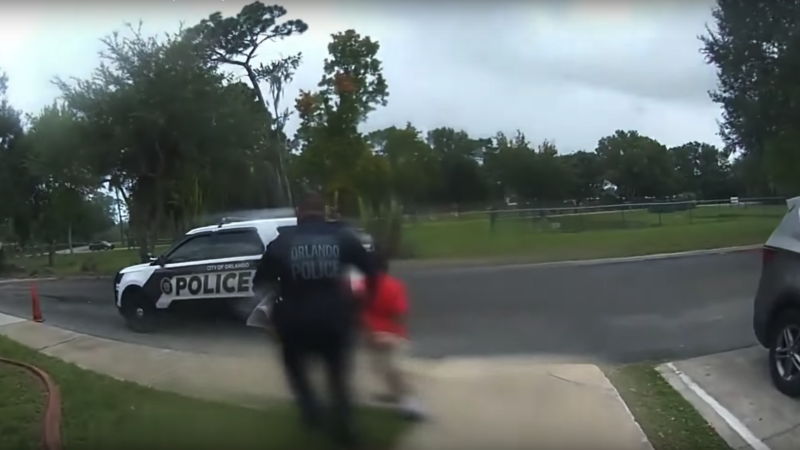 The family of Kaia Rolle, a Florida child whose handcuffing and arrest at the age of 6 led to national outrage in 2019, filed a lawsuit today against the city of Orlando, the now-fired police officer who handcuffed and arrested her, and his supervisors.
The lawsuit, filed in a Florida state circuit court, alleges Rolle was subjected to excessive force, false arrest, and malicious prosecution. At a press conference today in Orlando, Rolle's lawyers and family, as well as civil rights activists, also called on Florida to raise its minimum age of arrest for children.
"This happened," Rolle's lawyer, Bobby DiCello, said, holding up a picture of Rolle crying in the back of a police cruiser with her wrists bound behind her. "And it's happening all across America."
Rolle's alleged crime was throwing a tantrum and striking three employees at an Orlando-area charter school. 
Body camera footage of the incident showed former Orlando police officer Dennis Turner and another officer putting zip ties around the small child's wrists and leading her outside to a police car as she cried and begged to be let go.
"What are those for?" Rolle, who was in first grade at the time, asks as the officer brings out zip ties.
"They're for you," Turner responded.
Rolle was charged with misdemeanor battery. The charges were quickly dropped.
The national condemnation that poured in after the story went viral led to the officer's firing, and after two years of lobbying from Rolle's family and other advocates, Florida created a minimum age of arrest for children.
As Reason has previously reported, in many states, there is no minimum age for when a child can be arrested and charged with a crime, although incidents like Rolle's have led several states to strengthen protections for children in recent years.
In 2021, the city of Rochester, New York, released body camera footage of officers pepper-spraying a handcuffed 9-year-old girl. 
In North Carolina, an investigation by the Raleigh News and Observer revealed that children as young as 6 had been charged with crimes. The story's lead anecdote involved a 6-year-old boy charged with destruction of property for picking a tulip. 
However, Florida's new minimum age for arrest is 7 years old. Rolle almost immediately aged out of the law named after her.
"The law we fought so hard to put in place doesn't even protect her," Rolle's grandmother, Meralyn Kirkland, said at the press conference.
Rolle's family and juvenile justice advocates are asking for the minimum age of arrest in Florida to be raised to 14 years old.
The post Family of 6-Year-Old Florida Girl Handcuffed at Orlando School Files Lawsuit appeared first on Reason.com.
from Latest https://ift.tt/rxYTGsH
via IFTTT