Hollywood Writers Strike Could Be Over As Soon As Today
Hollywood writers and producers are close to an agreement to end the Writers Guild of America strike following face-to-face meetings on Wednesday, CNBC reports, citing people close to the negotiations.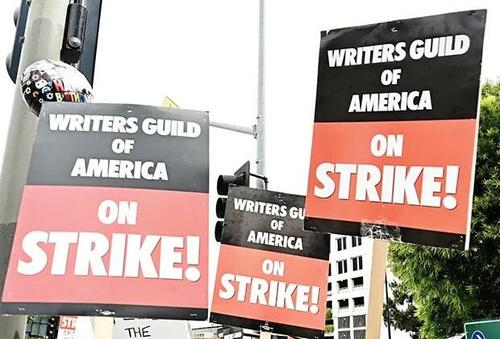 If discussions hold together, the two sides hope to finalize a deal Thursday. That said, if the tentative deal unravels, the strike could last through the end of the year – keeping more than 11,000 film and TV writers in limbo. The writers and producers have argued that t hey aren't being paid enough relative to the income generated during the streaming era.
In a Wednesday night joint statement, the WGA and the Alliance of Motion Picture and Television Producers released a joint statement to announce that the two groups had met at the bargaining table, and would meet again on Thursday.
After face to face meeting today, writers and producers near agreement to end WGA strike. Met today and hope to finalize deal tomorrow, according to people close to the negotiations, who, while optimistic, warn that without deal tomorrow strike likely continues through year end.

— David Faber (@davidfaber) September 21, 2023
The writers strike has been in effect for more than 100 days, with actors joining in July, causing Hollywood production to grind to a halt. Several high profile shows such as Netflix's "Stranger Things," as well as various Marvel/Disney productions (and of course, Dune: Part Two featuring Christopher Walken) are among the high-profile projects to hit the pause button.
Earlier in the week, the writers' union said it would resume negotiations with the studios.

This appears to be the closest the two sides have come to a resolution since the more than 11,000 film and TV writers went on strike beginning May 2. They have argued their compensation doesn't match the revenue that's been generated during the streaming era. -CNBC
Beyond higher pay, the WGA has been pushing for new rules which would require studios to guarantee employment for specific lengths of time. The writers are also seeking to be compensated throughout the creative process (preproduction, production and postproduction). Currently writers are often required to provide revisions or new material without pay.
Tyler Durden
Thu, 09/21/2023 – 07:45
via ZeroHedge News https://ift.tt/GUvuX42 Tyler Durden