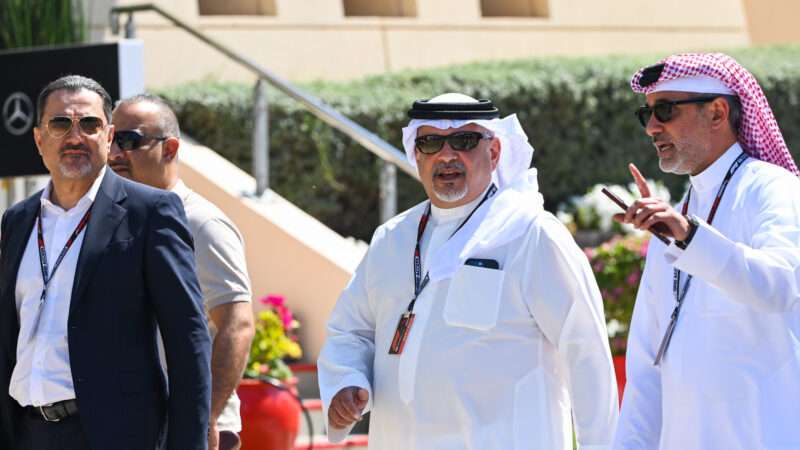 Bahraini police officers and U.S. diplomats stood in front of the U.S. Embassy in Manama for a photo op on Tuesday. The officers had just completed an "Advanced Social Media Investigations training" provided by the U.S. State Department. The class, according to the State Department's announcement, explained "how terrorists and terrorist organizations use social media for operations, recruiting, and disinformation."
According to the State Department's own human rights report, "calling for the end of the monarchy" is "considered a terrorist act" in Bahrain, a small oil-rich kingdom. And the Bahraini government is indeed very interested in what people have to say online. Authorities rounded up thousands of citizens during a 2011 protest wave and allegedly tortured many of them. When dissident Nabeel Rajab criticized the torture on Twitter, he was jailed too.
In 2017, the Bahraini government allegedly arrested and tortured Najah Yusuf, a mother of four, after she wrote on Facebook that Formula One events were "whitewashing" Bahrain's image. In 2019, the government threatened to prosecute people who simply follow "seditious" social media accounts. In May 2023, the Bahraini authorities arrested four other social media critics. With the Biden administration's help, they'll be able to further secure their grip on power.
Under a security agreement approved by President Joe Biden last week, the United States has promised to "deter and confront threats of external aggression" against Bahrain, which already hosts the U.S. Navy's Fifth Fleet. The two sides agreed to further integrate the Bahraini and U.S. militaries through weapon sales, training exercises, and joint planning. The social media training was the first act of cooperation since the deal was signed.
"All foreign militaries and law enforcement organizations that receive security assistance are vetted for human rights violations in accordance with U.S. law," a State Department spokesperson wrote in response to questions from Reason. "Human rights are a pillar of the [Biden] Administration's policy across the Middle East and North Africa, and the State Department consistently raises human rights issues with senior Bahraini officials."
The Biden administration is now seeking a "mega-deal" that would bind the United States, Israel, and Saudi Arabia into a new Middle Eastern order. The agreement with Bahrain, a close Saudi ally, appears to be a trial balloon to test what U.S. commitments the Biden administration can get away with offering to Saudi Arabia.
Critics say the deal runs roughshod over both the U.S. Constitution—which gives the Senate the power to approve treaties—and Bahraini rights. The agreement was hashed out as hundreds of Bahraini prisoners were on hunger strike, demanding better medical care and the right to see their families. Just after the signing of the deal, Bahraini immigration authorities banned Maryam al-Khawaja, the daughter of imprisoned human rights activist Abdulhadi al-Khawaja, who is continuing his hunger strike to protest poor medical treatment.
"'Turning a blind eye' is the wrong phrase," says Sayed Alwadaei, a Bahraini exile and advocacy director of London's Bahrain Institute for Rights and Democracy. "The U.S. is actively empowering the dictatorship in Bahrain."
At the signing of the agreement, Secretary of State Antony Blinken called it "a framework for additional countries that may wish to join us in strengthening regional stability." An anonymous Biden administration official told The New York Times that the deal was a "legally-binding" agreement that "does not cross the threshold of a treaty."
The statements were a nod to Saudi Arabia, which has demanded a "NATO-style" alliance with the United States as part of any mega-deal. NATO was created by a formal treaty, which required the approval of two-thirds of the U.S. Senate to pass.
A recent poll commissioned by the Quincy Institute, an anti-war think tank, shows that a majority of Americans oppose such a deal with Saudi Arabia and Israel. 
The Biden administration seems to be showing that it can offer U.S. military protection to Saudi Arabia without a public debate or Senate vote.
Bruce Fein, a constitutional lawyer and former Reagan administration official, claims that the idea of a "legally binding" agreement without a treaty is "flagrantly unconstitutional."
"These kinds of agreements are 'treaties' within any reading of the Constitution and international law," he says. "It's clear under international law that an agreement between two sovereignties—especially concerning defense—qualifies as a treaty under any conceivable standard."
The U.S.-Bahrain agreement doesn't exactly commit the United States to war. In the event of "external aggression," it requires both countries to "immediately meet at the most senior levels to determine additional defense needs and to develop and implement appropriate defense and deterrent responses as decided upon by the Parties."
Any decision by the two governments, the text of the agreement claims, would be "in accordance with their respective constitutions and laws." (The U.S.-Japanese treaty of alliance, which the Biden administration has privately touted as a model for a Middle Eastern security pact, has similar language.) But the agreement creates political pressure to act once a crisis has started, Fein warns, which might make war a fait accompli.
"They'll say 'our credibility is at stake,' even if [the U.S. commitment] wasn't legally binding. 'We aren't standing with someone that we said we would be standing shoulder-to-shoulder with!' So we have to go to war," Fein says. "We've seen this rodeo before."
The agreement is clearly aimed at one specific foreign threat. Bahraini authorities have often accused neighboring Iran of being the hidden hand behind the country's internal problems. They've used this accusation to garner more U.S. support, especially under the Trump administration, which raised the specter of Iranian terrorism in Bahrain.
"Every crime [the authorities] commit inside Bahrain, any kind of internal repression, they will link it to Iran," says Alwadaei, the exiled activist. "Every time they are facing international scrutiny, they have another country to blame."
Iran has threatened Bahrain, which it occasionally claims as a historical Iranian province. And Bahraini authorities have found Iranian weapons being smuggled into the country. But a 2011 commission of inquiry, sponsored by the Bahraini government itself, found no "clear link" between Iran and Bahrain's 2011 uprising. In other words, Bahraini unrest is a Bahraini problem at its root.
"Our movement predates the Iranian revolution," says Khawaja, whose father is on hunger strike and who works as a consultant for human rights organizations. "Bahrain has one of the longest-running civil rights movements in the region."
Bahrain was part of the British Empire, which ruled the Shi'a Muslim-majority island through a Sunni Muslim dynasty. Ever since Bahrain's independence in 1971, that dynasty has continued to hold tightly onto power. The emir, Isa bin Salman, suspended Bahrain's first constitution in 1973, almost immediately after it was passed. He set up a draconian system of State Security Courts, and kept the colonial police chief Ian Henderson, a former British intelligence officer who had helped turn Kenya into "Britain's gulag."
Britain handed over its main military base in Bahrain to the U.S. Navy in 1971, and the base became a key part of the growing U.S. presence in the Middle East, hosting the main American fleet in the region. Bahrain, in return, was able to build up its military by buying American weapons.
Emir Isa's son, King Hamad bin Isa, announced reforms after taking the throne in 1999. But torture prisons returned to Bahrain in the late 2000s, and the repression escalated during the Arab Spring uprising of 2011, according to Human Rights Watch. In recent years, the Bahraini government has gone after religious clergy, secular opposition, photojournalists, and Twitter critics in the name of national security.
Ironically, the last foreign troops to open fire on Bahrainis were allies of the Bahraini government. During the 2011 uprising, Saudi Arabia sent its forces into Bahrain to take the streets back from protesters and prevent the fall of the monarchy. Dozens of people were killed—at least five tortured to death, according to the 2011 commission—and thousands were arrested over the course of the crackdown. 
"Ultimately, it's Saudi Arabia that will not allow Bahraini democracy," says Sarah Leah Whitson, executive director of Democracy for the Arab World Now, an organization founded by slain Saudi journalist Jamal Khashoggi. "When the Biden administration says it's defending Bahrain, it means that it's defending the Bahraini dictatorship."
By offering defense guarantees to smaller countries like Bahrain, the Biden administration will be able to say that "there's nothing special about what we're doing with Saudi Arabia," says Whitson.
Bahrain did face pressure to reform from Washington and other foreign capitals after the 2011 uprising. Alwadaei attributes much of the pressure to the death of Abdulredha Buhmaid, a protester who was shot by police on camera in February 2011. Images of the shooting and doctors' attempts to save Buhmaid went viral on social media. 
Another turning point came in May 2011, when then-President Barack Obama publicly criticized the Bahraini government for bulldozing Shi'a mosques. A few years later, Bahraini authorities kicked out U.S. diplomat Tom Malinowski—now a Democratic congressman in New Jersey—for meeting with an opposition party. The United States froze some military aid between 2011 and 2015, and began pushing Bahraini officials to take human rights classes.
Washington seemed to overlook another possibility: that the Bahraini government knew perfectly well that it was violating human rights. Sayed Yusuf Almuhafdha, a Bahraini human rights activist and researcher who was exiled to Germany in 2014,* says that the government simply "used these [training] programs to buy time" until criticism died down.
Bahrain's help in the war against the Islamic State earned the kingdom a lot of credit in Washington. So did the Abraham Accords, a 2020 deal to normalize relations between Israel and several Arab states, including Bahrain. King Hamad was able to paint himself as a moderate Muslim ruler, and the U.S. State Department called Bahrain "a model for a society that actively espouses religious freedom, tolerance and diversity of peoples." Rather than an unsavory partner, many U.S. policymakers now view the Bahraini monarchy as an active force for good.
"Glad to see the U.S. reaffirming our strong partnership to Bahrain, a fellow friend of Israel," Sen. Rick Scott (R–Fla.) wrote on social media after the Biden deal. "I had the privilege of visiting Bahrain earlier this year & am confident that we will stand strong together against evil countries like Iran who want to destroy freedom & democracy."
Khawaja says that "less people want to talk about [human rights] now that Bahrain has signed the Abraham Accords." She's tried to deliver a message to the U.S. officials who agree to meet with her: "creating animosity towards the United States, in a place where the U.S. Navy's Fifth Fleet is based, is not in the United States' best interest."
Four days after the U.S.-Bahraini deal was signed, Khawaja joined a delegation of human rights activists on a trip to Bahrain in order to protest her father's prison conditions. Her demand was to let her ailing father, founder of the Bahrain Center for Human Rights, see a cardiologist. Khawaja expected to be jailed on arrival. Instead, she was turned away at the airport.
"I thought I would feel relieved when I got turned away. I think I just feel frustrated," she told Reason a week later. "I'm worried the attention will die down and I won't be able to save my father's life."
*CORRECTION: The original version of this article incorrectly described Sayed Yusuf Almuhafdha's background. 
The post Bahrain's Dictatorship Gets More Biden Administration Help appeared first on Reason.com.
from Latest https://ift.tt/mblABGU
via IFTTT