Finnish Military Bolsters Border Wall After Charging Russia With Weaponizing Migrants
Border tensions have heightened between Russian and the NATO alliance's newest member Finland. Finland has lately accused Moscow of weaponizing migrants to create a crisis at border crossings. 
Russia had vowed "countermeasures" after Finland was admitted into NATO last April. Finland's Border Guard has since documented what it says is a serious uptick in undocumented migrants showing up at crossings, with most of them having originated in Africa and the Middle East.
The some 830+ mile Russian-Finnish border also serves as the external border of the European Union. EU President Ursula von der Leyen has recently joined Finnish Prime Minister Petteri Orpo in condemning what they called Russia's "instrumentalization of migrants" – with von der Leyen calling it "shameful". 
Finland's border authorities have said over 300 undocumented asylum seekers have recently arrived, mostly at four southern crossings which at this point have been closed. In some instances this has led to violence, with border guards having deployed riot control measures to keep migrant groups from breaching the border.
"We do not accept such accusations," Kremlin spokesman Dmitry Peskov has said in response to Finnish and EU allegations. He slammed Helsinki's accusations as "far-fetched". 
According to regional reports, Finland is moving to provide greater security with military help, which includes bolstering construction of the border fence in key spots:
The Finnish Defense Forces are helping the country's Border Guard construct temporary fences on the Russian border after the Finnish government closed four border crossing points in response to an increased flow of third-country asylum seekers coming from Russia.

…Kainuu Border Guard deputy commander Tomi Tirkkonen told Finnish public broadcaster Yleisradio Oy that the Defense Forces were only helping with construction, not providing military assistance.
Finnish PM Orpo last week went so far as to allege that migrants are actually being transported to the Finnish border with the help of Russian authorities. "It is clear that these people are helped and they are also being escorted or transported to the border by border guards," he said.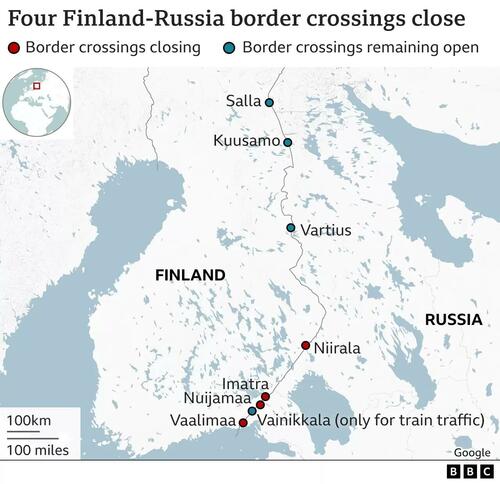 Russia previously warned its Arctic neighbor against militarizing the border in relation to the controversial prior NATO bid. The Kremlin further stated that NATO positioning military assets and weaponry there risked setting off a nuclear arms build-up in the Baltic region. 
Tyler Durden
Tue, 11/21/2023 – 02:45
via ZeroHedge News https://ift.tt/n67HRtU Tyler Durden