Appeals Court Blocks Biden Order Forcing Federal Employees To Get COVID-19 Vaccine
A federal appeals court has blocked President Joe Biden's order forcing federal employees to take the Covid-19 vaccine.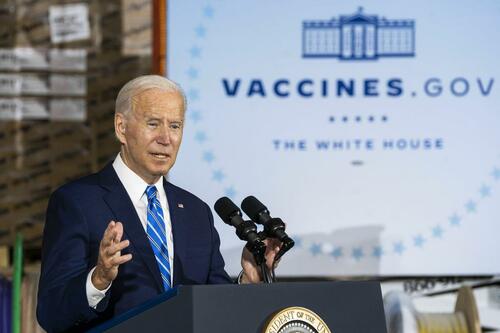 On Thursday, the 5th US Circuit Court of Appeals in New Orleans rejected arguments that Biden is 'the nation's chief executive' – and has the same authority as the CEO of a private corporate in mandating that employees get vaccinated, NBC News reports.
Opponents of Biden's forced vaccination policy said it was an encroachment in the lives of federal workers which neither the Constitution nor federal statutes authorize.
The ruling was made by the full appeals court of 16 judges, and reversed an earlier ruling by a three-judge 5th Circuit panel that upheld Biden's vaccine requirement. The opinion in Thursday's ruling for a 10-member majority was written by Judge Andrew Oldham, a Trump nominee.
The ruling maintains the status quo for federal employee vaccines. It upholds a preliminary injunction blocking the mandate issued by a federal judge in January 2022. At that point, the administration said nearly 98% of covered employees had been vaccinated.

And, Oldham noted, with the preliminary injunction arguments done, the case will return to that court for further arguments, when "both sides will have to grapple with the White House's announcement that the Covid emergency will finally end on May 11, 2023." -NBC News
Biden signed an executive order in September 2021 which required all executive branch agency employees to take the vaccine, with exceptions made for religious or medical reasons. It took effect the following November, after which U.S. District Judge Jeffrey Brown, who was appointed to the District Court for the Southern District of Texas by Trump issued a nationwide injunction two months later, before it moved on to the 5th Circuit.
The case then went through several machinations – with one panel of 5th Circuit judges refusing to immediately block the Executive Order, after which a different panel upheld the order – agreeing with Biden's position. The broader court majority then agreed with the smaller panel, ruling that federal law does not preclude court jurisdiction over cases having to do with "private, irreversible medical decisions made in consultation with private medical professionals outside the federal workplace."
But then a majority of the full court voted to vacate that ruling and reconsider the case, which was heard on Sept. 13, and here we are today.
The dissenting opinion was written by Obama nominee Judge Stephen Higginson, who wrote: "For the wrong reasons, our court correctly concludes that we do have jurisdiction," adding "But contrary to a dozen federal courts — and having left a government motion to stay the district court's injunction pending for more than a year — our court still refuses to say why the President does not have the power to regulate workplace safety for his employees."
Tyler Durden
Fri, 03/24/2023 – 12:40
via ZeroHedge News https://ift.tt/d1pbnH3 Tyler Durden