Citywide Youth Curfew Begins In Baltimore As Mayor Strives To Restore Law And Order
About six weeks after an incident where hundreds of teenagers wreaked havoc in Baltimore City's Inner Harbor area, the city's progressive leadership finally introduced a curfew Friday night to keep kids off the streets during late night hours. 
Local media outlet WBAL reported city residents received a message and phone calls on Friday, reminding them, "Curfew ordinance is in effect from 11 pm. to 6 am all summer." 
The 11 pm to 6 am curfew is for weekends and holidays and impacts teenagers aged 14, 15, and 16. Another curfew for youngsters under 13 begins at 9 pm. 
"Under the mayor's plan, police officers will focus on groups of 10 or more young people, and identification will not be demanded," WBAL said. 
The curfew will be enforced in Inner Harbor, Fells Point, and Federal Hill — these areas are home to higher-income households, as well as bars and restaurants. 
"There will be no pat-downs unless safety is an issue, and officers will not engage until a youth connection worker is at the scene," WBAL continued. 
There are a few exceptions to the curfew. One is that parents or guardians can accompany a minor during curfew hours. 
If a youngster is found breaking the curfew, a relative could face fines of up to $500 for repeat offenses.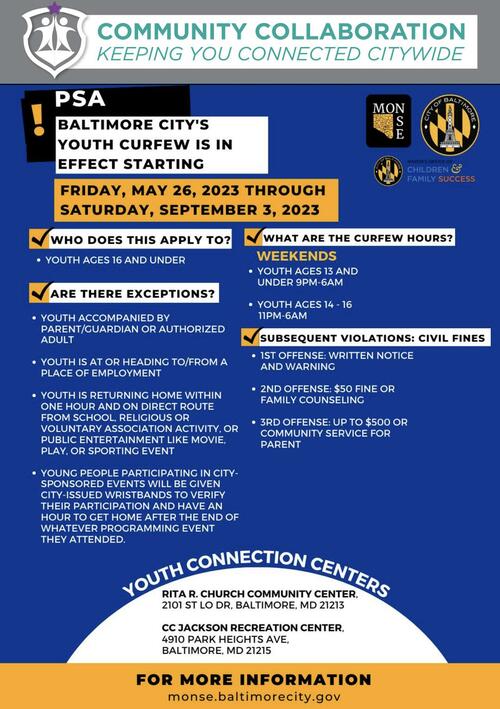 For more color on why the mayor is implementing a curfew on the youth, last month's incident shows just why:
Just a late night run at the great Baltimore City's #InnerHarbor #SpringBreak vibes #SpringBreak2023 #Baltimore #Maryland #น้องวินอยากเป็นพี่วิน #TAEHYUNGxCELINE #SuccessionHBO #Succession #ChaguoSmartNaAirtel #Maryland #Taiwan #TikTok #SummerMMFF2023 #INVASION #Russia… pic.twitter.com/X36btbT65g

— Daniel Barahona (@GlobalSETT) April 10, 2023
For your safety, it might be wise to steer clear of Democrat cities as crime is rampant. 
Tyler Durden
Sat, 05/27/2023 – 16:00
via ZeroHedge News https://ift.tt/yIi4zrJ Tyler Durden