Air Travel Bubble Might Be In A Stall
There are early indications that the air travel boom post-Covid might be in the early stages of a stall following a slowdown in consumer credit and debit card transactions of airline ticket purchases in the second quarter, according to tech firm Bloomberg Second Measure. This would mark the first drop in two years since government-enforced lockdowns led carriers to reduce flights nationwide. 
Once the skies reopened after lockdowns were lifted, consumers began to travel, and some called it 'revenge travel' to make up for time and experiences lost during the pandemic. But after a two-year boom and soaring airfare inflation, consumers are reducing travel, like other discretionary purchases, including electronics, apparel, and restaurants. 
Bloomberg Second Measure data for the second quarter shows anonymous credit and debit card transactions made with airline carriers, such as Delta Air Lines, American Airlines, United Airlines, Southwest Airlines, Alaska Airlines, and JetBlue.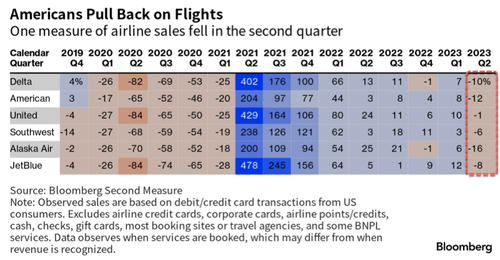 According to the transaction data, Alaska, American, and Delta experienced the most significant quarterly declines. This data aligns with Alaska's earnings report last week, warning about a slowdown in demand. 
Southwest reported earnings last week that topped Wall Street's expectations but was concerned about how demand will hold up in the second half of the year. 
The good news is the latest CPI report showed ticket inflation has finally plummeted.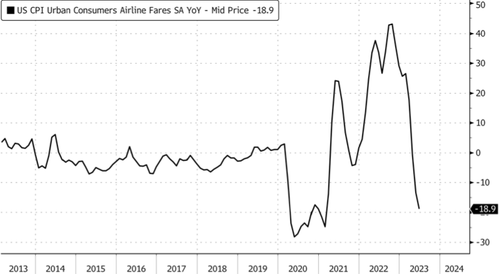 But that might not stoke demand as consumers are already pulling back on overall card spending as retailer sales disappointed in June. Many consumers have been battered by two years of negative real wage growth that forced them to drain personal savings and rack up insurmountable credit card debt in a high-rate environment. 
The new data that shows consumers are pulling back on air travel is an ominous one despite the White House touting 'Bidenomics' has sparked an economic 'renaissance.' 
Tyler Durden
Mon, 07/31/2023 – 17:20
via ZeroHedge News https://ift.tt/IEOWSuk Tyler Durden