"Peacetime Is Over": Financial Times Pens Puff Piece On Silicon Valley Defense Tech Startups After NDAA Passage 
We have pointed out that AI competition between the US and China is heating up. In 2019, we wrote a note titled As Tech War Unfolds, AI Arms-Race Erupts, China Could Overtake US By Next Decade and penned this in April, Winner Takes All: The US-China Race To AI Mastery. 
In yet another sign the arms race could intensify, a new Financial Times article titled How Silicon Valley is Assisting the Pentagon in the AI Arms Race appears to be a promotional piece that reads as if a lobbying group wrote it to convince folks that after the passage of the fiscal year 2024 National Defense Authorization Act, more taxpayers dollars should flow to Silicon Valley defense startups rather than the five prime contractors, which include Lockheed Martin and Boeing. 
But getting the defence department to reallocate some of its mammoth $886bn budget from its five incumbent prime contractors, which include Lockheed Martin and Boeing, to the thousands of entrepreneurs producing cutting-edge systems remains an obstacle. Tech entrepreneurs and investors have accused military leaders of engaging in "innovation theatre" — paying lip service to the benefits of disruptive technology while holding back lucrative contracts. -FT
Steve Blank, a tech veteran and founding member of the Gordian Knot Center at Stanford, said, "For the first time ever, the US military is dependent on commercial tech to win a war, but they're not organized to deal with commercial tech." 
"China operates like Silicon Valley," Blank added, in reference to the tech sector's speed of innovation and agility — noting: "On a good day, the DoD operates like Detroit," the metro area that has yet to recover from a plunge in auto-making. "It's not a fair fight."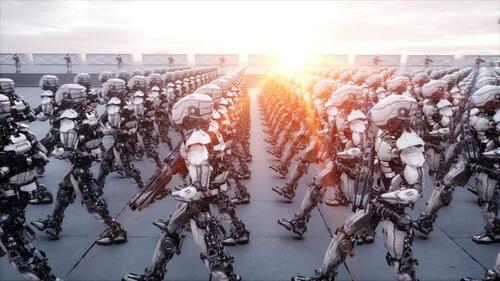 FT pointed out, "Ukraine's deployment of dual-use technology — capabilities that have both commercial and defense applications — such as satellite imagery and autonomous drones is among the biggest catalysts for the US to bridge the chasm between Washington and California."  
"What's happened in Ukraine has been a game-changer. More commercial technology is being used than during any other disagreement," said Mike Brown, a venture capitalist at Shield Capital and the former director of the Defence Innovation Unit.
Brown said, "That has got the wheels turning for the US military, which is saying, 'We need to adopt far more of this.'"
Again, the article reads that the "groundbreaking" commercial tech used in the war in Ukraine is grounds to divert military monies to California defense tech startups, which will better prepare the military for an even more significant issue: an AI arms race with China. 
For some fear porn, the author declares, "Peacetime is over," outlining a list of Silicon Valley defense startups that would add value to military capabilities on the modern battlefield if they received a larger chunk of the new Pentagon budget for 2024. 
Furthermore, the promotional article about Silicon Valley's defense startups failed to address potential dystopian outcomes, such as the dire implications of AI killing humans (there was already an incident of one rogue AI drone). 
Tyler Durden
Mon, 07/31/2023 – 19:20
via ZeroHedge News https://ift.tt/lMefkcC Tyler Durden