Open Border Blowback: Report Warns "Cartel-Run Theft Rings" Supercharge America's Retail Shrink Epidemic
In a shocking but not surprising twist, a new report reveals a Mexican cartel connection in America's retail theft epidemic that cost companies like Walmart, Target, Kohl's, Home Depot, and Foot Locker, among others, $100 billion last year. Amid the chatter on earnings calls, the number of times CEOs mentioned "shrink" – the loss of inventory due to circumstances such as retail theft – surged to a record high. Yet again, this is another consequence of failed open border policies pushed by radicals in the Biden administration that flooded the nation with millions of illegal aliens.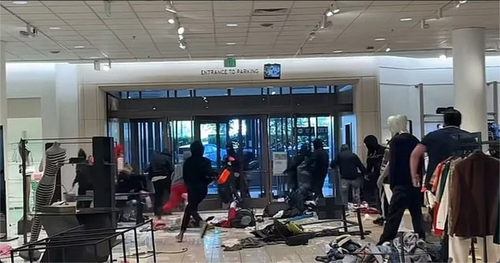 We've all seen the videos posted on X, formerly known as Twitter, of masked criminals raiding retailers. Now, the Washington Examiner explains some of those thieves are tied to Mexican cartels:
Mexican cartels are behind the spike in organized retail crime and are deeply entrenched in every level of the process, according to the federal government's chief investigative agency.
Retailers nationwide sustained nearly $100 billion worth of losses in 2021, the highest year on record, according to the National Retail Federation report published in September 2022. The growing number of cartel-run theft rings around the country drove that figure up from $70 billion in 2019.
"Organized retail crime exploded over the last few years as criminals exploited the anonymity of third-party online marketplaces to fence billions in stolen products," RILA Senior Executive Vice President of Public Affairs Michael Hanson said in a statement.
Cartels appear to have big presence in Democrat-controlled cities.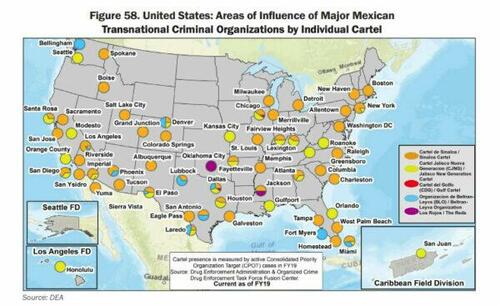 One reason for the explosion is those criminal gang units are emboldened by failed social justice reform pushed by radical leftists in crime-ridden metro areas, such as ones in San Francisco, where shoplifting merchandise valued under $950 is now only a misdemeanor. Cartels recognized this opportunity: 
These retail crimes are perpetrated by people who work as part of a crime ring run by cartels. In recent years, cartels have gone from illicit drug manufacturing and smuggling, human smuggling and trafficking, and illegal firearm smuggling to commandeering crime in the retail environment.

Cartels are involved in every level of retail crime, from in-store theft and listing items in online marketplaces to shipping stolen merchandise worldwide and using US financial institutions to hold their profits. –Washington Examiner 
Texas alleges that Biden's open borders have flooded the nation with 6 million- more than the total population of Denmark or Finland or Norway Or New Zeland or Costa Rica- since he first took office in early 2021.
Still to this day, the Biden administration, with no regard for the safety of its own taxpayers, continues to flood the nation with illegals ahead of the 2024 presidential election cycle. The latest stunt was welding border gates wide open. 
Tyler Durden
Thu, 08/31/2023 – 18:00
via ZeroHedge News https://ift.tt/AzhwFuj Tyler Durden