Proud Boys Leader Joseph Biggs Sentenced To 17 Years In Prison As 'Terrorist' Over Role In J6
A federal judge on Thursday sentenced Proud Boys leader Joseph Randall Biggs to 17 years in prison – more than a lot of murderers receive – after calling the destruction of a fence on US Capitol property during the January 6, 2001 Capitol breach an act of terrorism.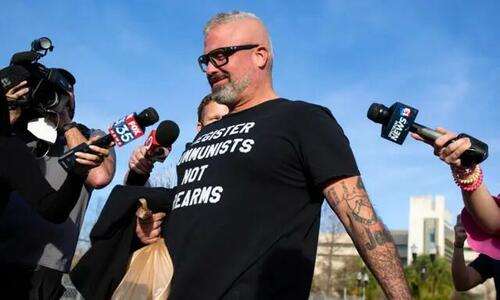 The 39-year-old Biggs is the first of the Proud Boys leaders sentenced after being found guilty of seditious conspiracy in May along with five other charges related to the event.
Which reminds us – instigator Ray Epps, who's totally not a fed, remains free to this day.
Biggs was also convicted of conspiracy to obstruct an official proceeding, obstruction of an official proceeding, conspiracy to use force, intimidation, or threats to prevent officers of the United States from discharging their duties, interference with law enforcement during civil disorder, and destruction of government property.
The sentence, handed down by US District Judge Timothy Kelly, followed the DOJ's recommendation to add a terrorism enhancement, which greatly increased his potential prison time. That said, Kelly opted for roughly half the prison time the DOJ had sought.
"I know that I messed up that day. But I'm not a terrorist. I know I have to be punished, and I understand," said Biggs in an emotional statement to Kelly.
According to Kelly, Biggs and the other Proud Boys were part of a "mob that brought an entire government branch to heel" on January 6th.
More via the Epoch Times,
In a sentencing memo filed with the court on Aug. 17, defense attorney Norman Pattis anticipated the terrorism-enhanced sentence, although in court he described it as "shocking" and a "grotesque overreach" that is designed to chill dissent.
'Not Terrorists'
"The defendants are not terrorists," Mr. Pattis wrote. "Whatever excesses of zeal they demonstrated on January 6, 2021, and no matter how grave the potential interference with the orderly transfer of power due to the events of that day, a decade or more behind bars is an excessive punishment."
Addressing Judge Kelly on Aug. 31, Mr. Pattis said: "The conundrum is often speech is used to explain the crime. In this case, the crime was used to explain the speech."
Mr. Pattis said Mr. Biggs's destruction of a $32,000 Capitol fence shouldn't be considered terrorism because the fence was a "means to an end," not an attempt to influence the government.
Assistant U.S. Attorney Jason McCullough defended the government's recommended 33-year prison sentence.
"It is justified," Mr. McCullough said. "These are very serious crimes."
In its sentencing memorandum for Mr. Biggs, prosecutors called him "a vocal leader and influential proponent of the group's shift toward political violence."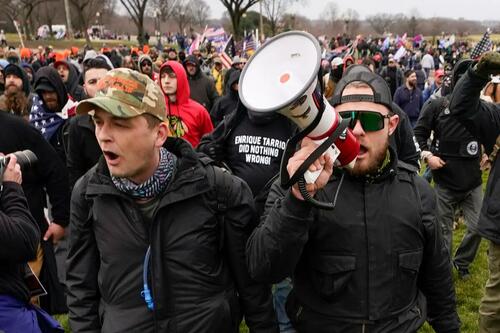 "More than perhaps any other, Biggs appreciated the tactical advantage that his force had that day, and he understood the significance of his actions against his own government," prosecutors wrote. "Biggs understood that the outnumbered forces attempting to hold the Capitol would be powerless due to his side's overwhelming numbers."
"Biggs's guidelines range—after the application of the adjustment for Biggs's crime of terrorism—rightly reflects the seriousness of his assault on our government and Biggs's leading role in it," prosecutors wrote. "Biggs's conduct warrants a sentence of 33 years of incarceration."
Prosecutors said Mr. Biggs and his co-defendants felt they were leading a second American revolution.
"Biggs arrived at the Capitol to lead a revolution against a government that he viewed as illegitimate," prosecutors wrote. "Like [Enrique] Tarrio and [Ethan] Nordean, Biggs viewed himself and his movement as a second American revolution where he and the other 'patriots' would retake the government by force."
Prosecutors said Mr. Biggs—perhaps more than any other defendant—"promoted the use of force against the government."
"Beginning in the days after the election, Biggs declared that the country could face 'civil war' because the 'left' was 'radicalizing people by stealing [the] election,'" prosecutors wrote. "Biggs told his followers that it was 'time for [expletive] War if they steal this [expletive].' … Biggs steadily escalated his calls for political violence."
Judge Kelly's sentence continued a trend that started with Oath Keepers defendants by doling out prison terms far short of those sought by the DOJ. In July, federal prosecutors appealed eight sentences given out by U.S. District Judge Amit Mehta.
Proud Boys chairman Henry "Enrique" Tarrio had been scheduled for sentencing on Aug. 30, but his sentencing hearing was moved to Sept. 5 when Judge Kelly became ill.
The sentencing of Proud Boys defendant Ethan Nordean was moved to Sept. 1 in Judge Kelly's courtroom. Zachary Rehl was set for an Aug. 31 sentencing, and defendant Dominic Pezzola will be sentenced on Sept. 1.
Tyler Durden
Thu, 08/31/2023 – 18:40
via ZeroHedge News https://ift.tt/CjUqVeE Tyler Durden