Staffer For Sen. Rand Paul "Brutally" Stabbed
Authored by Mimi Nguyen Ly via The Epoch Times,
A staffer from Sen. Rand Paul's (R-Ky.) office has been attacked in Washington, D.C., according to a statement from the congressman's office.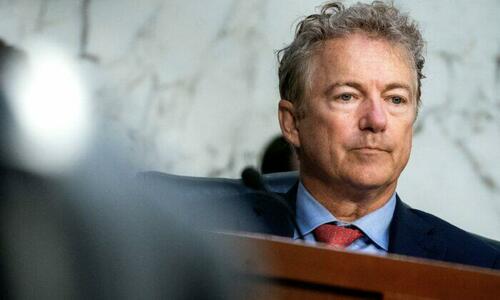 In a statement to outlets, Paul said that a member of his staff "was brutally attacked in broad daylight in Washington, D.C.," over the weekend.
"I ask you to join Kelley and me in praying for a speedy and complete recovery, and thanking the first responders, hospital staff, and police for their diligent actions," he added.

"We are relieved to hear the suspect has been arrested. At this time we would ask for privacy, so everyone can focus on healing and recovery."
In a statement on Monday, the Metropolitan Police Department of the District of Columbia (MPD) said the attack took place on March 25 and police were dispatched around 5:17 p.m. to 1300 block of H Street, Northeast, in response to a reported stabbing.
The victim was taken to a hospital for "treatment of life-threatening injuries."
There has been no update as to the staffer's condition as of late Monday.
The victim was identified as Phillip Todd, who serves on the Senate Homeland Security Committee, according to The Independent, citing MPD's report. Paul is the top Republican on the committee.
According to the MPD report, the attacker "popped out" from corner to attack Todd, who was walking down the street with another person at the time.
The attacker stabbed Todd and subsequently ran off.
The suspect, Glynn Neal, 42, was arrested on the same day of the attack. He was charged with assault with intent to kill with a knife, according to the MPD statement.
Neal had been sentenced in 2011 to more than 12 years in prison for compelling two women to engage in prostitution, according to a release (pdf) from the Department of Justice.
Neal was released from prison just one day before the stabbing, reported Fox5DC, citing Federal Bureau of Prisons records.
The attack occurred weeks after Rep. Angie Craig (D-Minn.) was attacked in an elevator inside her Washington, D.C. apartment building on Feb. 9. The suspect, a homeless man, was arrested on the same day.
Tyler Durden
Tue, 03/28/2023 – 12:25
via ZeroHedge News https://ift.tt/azUkcpb Tyler Durden