DeSantis Or Trump In 2024?
Former President Donald Trump announced in November that he was seeking the Republican nomination for the presidential elections in 2024. Trump served one term from 2017 to early 2021 and would therefore be eligible for another.
Florida governor Ron DeSantis formally declared his candidacy on May 24. DeSantis emerged as Trump's biggest rival in the polls as early as November but his presidential bid seems to recently have lost steam.
As Statista's Katharina Buchholz reports, in poll averages calculated by website Realclearpolitics.com, more than 53 percent of Republican voters would pick Trump for the 2024 Republican nomination most recently, while around 22 percent would nominate DeSantis.
You will find more infographics at Statista
While Trump does not exactly have incumbent privilege, it is due to his stint in the White House that he has a large, national supporter base among Republicans. 
After the party's worse-than-expected performance in the midterms, however, DeSantis started to soar in the polls as a potential presidential candidate due to his resounding reelection success that set him apart from other Republicans, including those with a Trump endorsement.
Trump's Vice President Mike Pence has, for the longest time, been the third-most popular candidate among Republican voters for 2024. Recently, he was overtaken by former governor of North Carolina and Trump's former ambassador to the United Nations, Nikki Haley. This could potentially change again in the coming weeks, with Pence formally filing his presidential bid with the Federal Election Commission FEC on June 5.
With DeSantis now among 10 other contenders to de-frock Trump, the Florida Governor's odds of taking the nomination (according to PredictIt), have actually fallen since his launch of Twitter Spaces…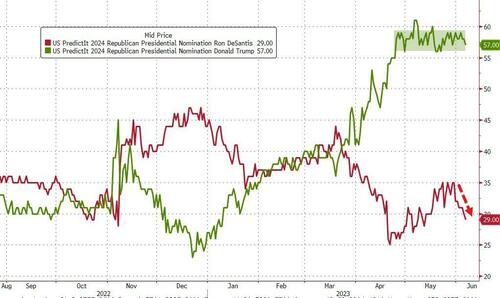 We wonder if RFK Jr's odds on the Democrat side will rise or fall after his Twitter Spaces discussion. They can't get any worse, for some reason, Kennedy does not even appear on PredictIt's list of possibles?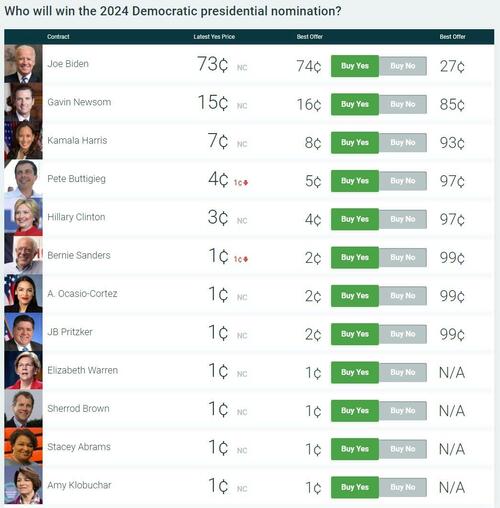 We leave you to consider why that might be?
Tyler Durden
Fri, 06/09/2023 – 06:55
via ZeroHedge News https://ift.tt/nF4sjTN Tyler Durden