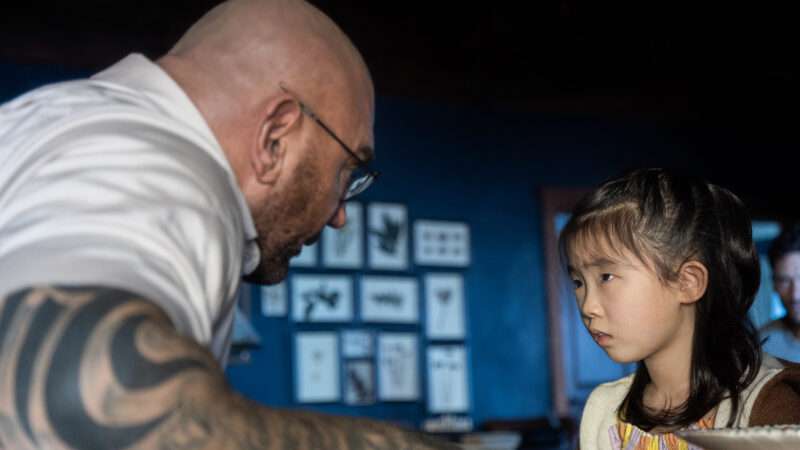 Knock at the Cabin isn't M. Night Shyamalan's worst movie (we've already sat through a couple of those). But as skillfully made as it is, it's also a little dull, and—a handicap in a horror movie—it's not horrifying, either. The picture is based on a 2018 novel by Paul Tremblay, via a script by Steve Desmond and Michael Sherman that Shyamalan rewrote. Why he neglected to tack on the word Door at the end of the title is an issue that will have to be thrashed out between him and his god (please copy me on that, guys).
Tremblay's story has been adjusted for purposes of crowd pleasing but remains largely the same in outline. A pair of gay dads named Andrew (Ben Aldridge) and Eric (Jonathan Groff) have rented a deluxe lakeside cabin for a vacation with their adopted seven-year-old daughter, Wen (Kristen Cui). The little girl is playing outside when a very large and heavily tattooed man suddenly appears. His name is Leonard (Dave Bautista in full gentle giant mode), and he's soon joined by three other strangers: a pair of women named Sabrina and Adriane (Nikki Amuka-Bird and Abby Quinn) and a hotheaded ex-con called Redmond (Rupert Grint).
After battering their way into the cabin to have a chat with Andrew and Eric, the four uninvited visitors explain what's on their minds. They're doomsday people, drawn together in the fever swamps of the internet and guided in this direction by a force they cannot name. The only thing of which they're certain is that an apocalypse is at hand, and that very soon the oceans will rise, the skies will fall, and an everlasting darkness will descend. However, they also believe that all of this can be averted if the dads and their daughter will volunteer to sacrifice one of their lives for the greater global good. Leonard and his associates are a little vague about all of this, and Andrew loudly mocks their concerns. But after the big man flicks on the cabin TV and we see reports of devastating tsunamis and deadly viral outbreaks come pouring out, Eric starts nipping at the Kool-Aid and wondering if maybe there actually is something Biblical going on here.
This is a rather Shyamalan-esque twist. It's not the traditional rites of excruciation that we most fear here, it's the intrusion of an ancient irrationality into our tidy modern lives. Shyamalan doesn't want to go full supernatural, though (that didn't work out well in his last film, the awful Old), so he doesn't dramatize the story's stakes in a pulpy, satisfying way. It's also odd that, given the movie's R rating, it goes out of its way to act like a PG-13 picture, averting its eyes whenever there's a throat to be cut or a noggin to be conked. Unfortunately, this reticence doesn't spare us the discomfort of a TV chicken commercial featuring—who else?—the unfortunately irrepressible Shyamalan himself.
To Leslie
Oscar races are basically a succession of very expensive award campaigns played out across various critics' polls and movie festivals worldwide. By this point in the process—we're now about six weeks away from the Academy Awards ceremony, which is due to be held in Los Angeles on March 12—most of the favored pictures and players have become familiar through sheer talk-show overload. However, when this year's nominations were announced last week, no one was expecting to see Andrea Riseborough's name pop up among such heavily tipped actresses as Cate Blanchett, Michelle Yeoh, Michelle Williams, and Ana de Armas. And very few people, even in the industry, had even heard of the movie for which Riseborough was nominated—a picture called To Leslie, which tiptoed into theaters last October and then tiptoed right back out again after grossing a pitiful $27,000.
This might have been the start of a rousing underdog story—except that Riseborough and her movie had valuable word-of-mouth assistance from such well-placed partisans as Gwyneth Paltrow, Kate Winslet, and Edward Norton. This quickly stirred charges of unfairness and even racism (see story here). Only now, with To Leslie available for rental on Amazon Prime, are a lot of people finally getting a look at it—and discovering that it's a pretty great movie, and Riseborough is sensational in it.
The picture is about a scuffed-up Texas drunkard named Leslie (Riseborough), who once won $190,000 in a lottery drawing and then proceeded to blow every penny of it, mainly on drink and many thirsty friends. As the movie begins, six years later, Leslie is being evicted from a dirt cheap motel and forced to petition her estranged teenage son, James (Owen Teague), for support. James tries, but Leslie screws up, as usual, and he soon has to pass her on to a pair of onetime friends, Nancy and Dutch (Allison Janney and Stephen Root), who now despise her. Fortunately, she ultimately winds up on the doorstep of a good-hearted motel manager named Sweeney (Marc Maron), and together they make their way to the movie's inevitable (and so what?) happy ending.
To Leslie is a vibrant low-budget example of how much can be done with talent and determination and not a lot more. Riseborough is superb, never stumbling or slurring to illustrate the toll of alcoholism but subtly pulling back the curtain on the spiritual squalor it has created in Leslie's life. The actress and first-time feature director Michael Morris (a TV veteran known for shows like Better Call Saul and 13 Reasons Why) shape the scenes with a searching, intuitive touch that's magical to behold. Meanwhile, Marc Maron stays busy making every possible argument for a best supporting actor award of his own. This is a bare-bones movie, but it's richly made, and filled with heart and wonder.
The post Review: <em>Knock at the Cabin</em> and <em>To Leslie</em> appeared first on Reason.com.
from Latest https://ift.tt/MxTW5JQ
via IFTTT