Navalny Begins Prison Hunger Strike As Supporters Claim Kremlin "Slowly Killing" Him
A day after The Washington Post featured an op-ed claiming that "the Kremlin may be slowly killing Alexei Navalny in prison," the anti-Putin activist has announced on Wednesday that he's begun a hunger strike to protest medical conditions at the prison facility, following his 2-and-a-half year sentence which was handed down last month.
He's said to be protesting the refusal of prison medical staff at the notorious Penal Colony No. 2 east of Moscow to treat a suspected trapped nerve in his back. Navalny has also stated he's lost sensation in one of his legs due to weeks of severe back pain, for which he recently went to so far as to voice fears his leg may have to be amputated.  
Prison authorities have shot back, saying Navalny is in "stable and satisfactory" condition, with top Kremlin officials recently chalking it up to his supporters still engaged in an anti-Russia propaganda war that has help from the West.
In a letter posted by his legal team to social media Navalny said, "I demand that a doctor be allowed to see me, and until this happens, I am declaring a hunger strike."
In a prior message last week Navalny first accused prison authorities of "deliberate denial of due medical assistance" in order to ensure his suffering. He essentially claimed "torture" – though he related it to prison-orchestrated sleep deprivation. 
"My condition has worsened. I feel acute pain in my right leg, and I feel numbness in its lower part," Navalny wrote. "I have trouble walking." His lawyer Olga Mikhailova had added to this in follow-up televised remarks, saying that his condition is "extremely unfavorable". She said, "Everyone is afraid for his life and health."
A number of international headlines then seized on the torture allegations, reporting that the 44-year old outspoken Putin critic who previously alleged the Russian president ordered his poisoning with nerve agent last August is now being literally "tortured" as part of his confinement.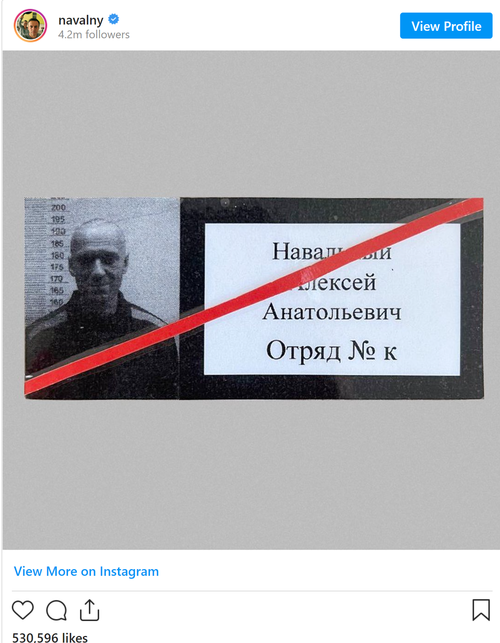 He's also said to have been threatened with solitary confinement over bad behavior and repeat violations for failing to conform to the strict prison regimen.
Tyler Durden
Wed, 03/31/2021 – 19:20
via ZeroHedge News https://ift.tt/2PqZMpt Tyler Durden