Buttigieg To Usher In Speed Camera Nightmare Across US
The U.S. Transportation Secretary Pete Buttigieg's plan to roll out a sprawling network of speed and surveillance cameras across America's highways raises troubling questions of mass surveillance, according to DailyMail. 
Buttigieg's 42-page plan to improve highway safety will receive a whopping $17 billion from President Biden's $1.2 trillion infrastructure bill, which would be used to install speed and surveillance cameras on highways. The plan says the use of automated speed cameras is a more "equitable" way to patrol highways than the police. 
Last Thursday, Buttigieg told the Associated Press that an alarming amount of highways deaths began after 2020, reversing a three-decade downtrend. 
"It doesn't look good, and I continue to be extremely concerned about the trend," he said in an interview.

"Somehow it has become over the years and decades as normal, sort of the cost of doing business," Buttigieg continued. "Even though a pandemic that led to considerably less driving, we continue to see more danger on our roads."
Speed cameras have drawn immense criticism from progressive lawmakers, who are furious that speeding fines will help fund police departments. On the other side of the political aisle, conservatives are troubled by mass surveillance. 
At the moment, eight states have prohibited speed cameras. But 18 states plus D.C. operate speed cameras, with other states having no laws authorizing their use.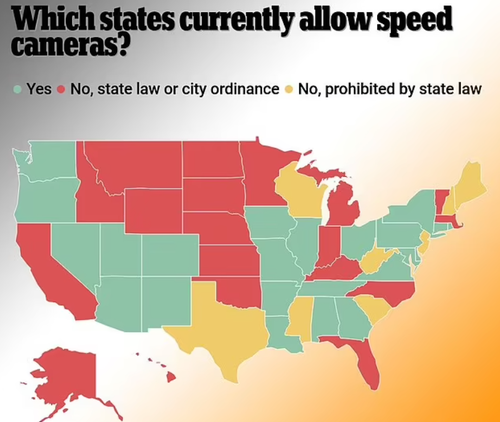 The DailyMail spoke with New Jersey State Sen. Declan O'Scanlon, who is concerned about Buttigieg's plan. He said speed cameras in New Jersey are illegal and said automated enforcement doesn't make roads safer and "amounts to government-sanctioned theft."
"These systems' negative impact falls particularly hard on the poor," O'Scanlon added. "The fines are a regressive tax. Any elected official that supports these systems is supporting screwing every one of his/her constituents that drives a car."
Early last year, the ACLU of Iowa said the speeding cameras are an illusion of enhancing safety and have made some highways more dangerous. 
"In some places, for example, traffic cameras have led to an increase in rear-end accidents because they cause drivers to slam on the brakes to avoid an automatically generated ticket," ACLU said. 
Besides speed and surveillance cameras, the National Highway Traffic Safety Administration, a part of the Transportation Department, intends to make automatic emergency braking mandatory for all new cars. 
Buttigieg's strategy is direct evidence that the government plans to scale up their surveillance network, and what's to stop them from using facial recognition systems? 
Under the guise of safety, a Chinese-style surveillance state continues to expand. 
Tyler Durden
Mon, 01/31/2022 – 18:40
via ZeroHedge News https://ift.tt/7SAgXT0BV Tyler Durden