Musk Admits Tesla "Would Have Gone Bankrupt" Without SolarCity Employees Helping Model 3 Production
The SolarCity shareholder lawsuit discovery continues to bear highly disturbing insights into how Elon Musk and his merry band of brothers were running their "pyramid" of money losing companies – SpaceX, SolarCity and Tesla – back in 2015 and 2016.
Most recently, it was revealed that Musk shifted resources from SolarCity in order to save Tesla from bankruptcy while it was preparing to produce the Model 3, according to Bloomberg. 
Musk said in a June pre-trial deposition: "If I did not take everyone off of solar and focus them on the Model 3 program to the detriment of solar, then Tesla would have gone bankrupt. So I took everyone from solar, and said: 'instead of working on solar, you need to work on the Model 3 program.' And as a result, solar suffered, as you would expect.''
Of course, at the time, no such disclosures were made to investors. 
Musk also acknowledged in the deposition that he "probably wouldn't support" the SolarCity acquisition again given the stress that Tesla faced during its Model 3 push. 
Musk said: "At the time I thought it made strategic sense for Tesla and SolarCity to combine. Hindsight is 20/20. And if I could wind back the clock, you know, I would say probably would have let SolarCity execute by itself; would have let Tesla execute by itself. But I just didn't realize how difficult it would be to do the Model 3 program. And so that was just a big distraction and sort of offset a lot of things by more than a year, year and a half maybe.''
To help alleviate the pressure of the Model 3 ramp, Musk took SolarCity employees from engineering, management, sales and service and transferred them to work on the Model 3. Other SolarCity workers were deployed to Tesla retail stores, while some delivered cars to customers. 
The pension funds who filed the lawsuit against Musk are arguing that Tesla was in no condition to buy a $2 billion company that was already basically insolvent. When Tesla reported Q3 earnings, its rooftop solar business increased for the first time in a year.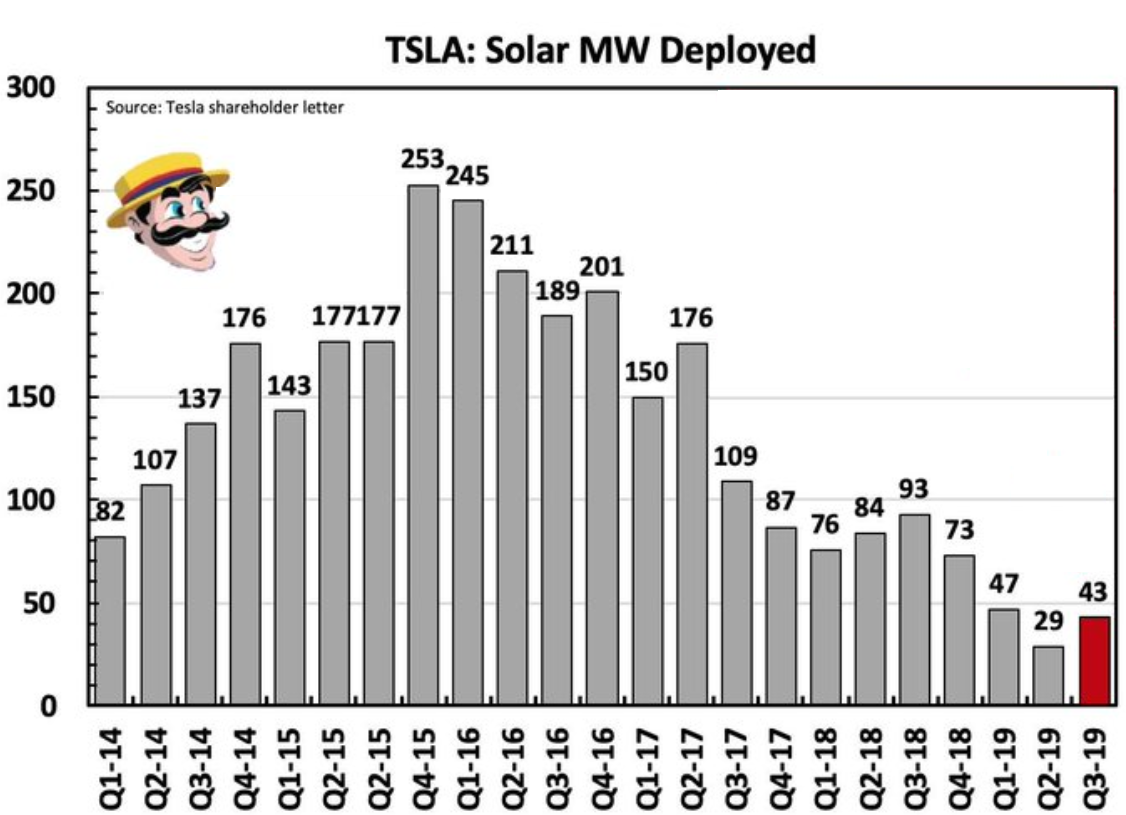 And Musk was combative with the lawyer asking him questions about SolarCity's health at the time, Randy Baron, even calling him "reprehensible" when he questioned whether SolarCity was a viable entity.
Musk continued in the deposition, saying to Baron: "You seem like a very, very bad person. Just a bad human being. And I hope you come to regret your actions in the future, but you probably won't. And that's sad."
When asked if he "bailed out" SolarCity, Musk said to Baron: "Advancing solar is absolutely good for the world. Do you just think about money? What is your purpose in life?''
"SolarCity would have done just fine by itself and Tesla would have done just fine by itself, but in the long-term, they are better together. And that is what the future will show. That is why I think you should stop wasting your time now,'' Musk said at one point.
Last week, Tesla introduced its "Version 3" of its solar roof. "It's been quite hard. Roofs need to last a long time. When you add electrification to the roof, it's a fair bit of complexity," Musk said about the product.
Recall, on Wednesday night, we published a comprehensive timeline laying out Kimbal Musk's SolarCity margin calls that occurred prior to the failing company being bailed out by Tesla. 
Tesla skeptic and short seller @TeslaCharts also appeared on a podcast on Sunday to lay out his thoughts both on Tesla's recent quarterly results, and on the company's claims about its "Version 3.0" of its solar roof tiles. 
Recall, we also noted days ago that despite Tesla's "headline" Q3 numbers, its U.S. sales actually plunged 39% in the quarter. 

Tyler Durden

Thu, 10/31/2019 – 19:45
via ZeroHedge News https://ift.tt/2WuqY5T Tyler Durden