SNAP Implodes Again After Forecasting First Ever Revenue Decline
For the fifth quarter in a row, SNAP stock craters after the company reports devastating earnings. But this one really hurts, because by now even the bears expected that all the bad news had been flushed out. Boy, were they wrong.
Having plunged six months ago after projecting its worst revenue growth on record, a shock revelation which took the stock some 25% lower, and tumbling again three months ago ago when the company reported another ugly quarter, SNAP is down double digits once again, tumbling from the mid-$11s to just below $10 after the former "growth" company forecast its first ever revenue decline.
Which is not to say that its historical data was any good. Here is how the company did in yet another catastrophic quarter:
Revenue $1.30 billion, +0.1% y/y, missing the estimate $1.31 billion

North America revenue $880.3 million, -5.6% y/y, estimate $923.5 million

Europe revenue $218.6 million, +4.6% y/y, estimate $201.4 million

Rest of the world revenue $200.9 million, +28% y/y, estimate $180 million

Adjusted EPS 14c vs. 22c y/y, beating the estimate 11c

Adjusted EBITDA $233.3 million, -29% y/y, beating the estimate $207 million

There was some good news in the daily active users, which at 375 million, or up +18% y/y, actually beat estimate 374.7 million, but not thanks to North America:

North America daily active users 100 million, +3.1% y/y, missing estimate 100.9 million

Europe daily active users 92 million, +12% y/y, estimate 89.7 million

Rest of world daily active users 183 million, +31% y/y, estimate 184.7 million

Free cash flow $78.4 million, -51% y/y, estimate negative $5.81 million
Tragically, in a time when tech companies are firing everyone, SNAP still uses the same colorblind graphic designer.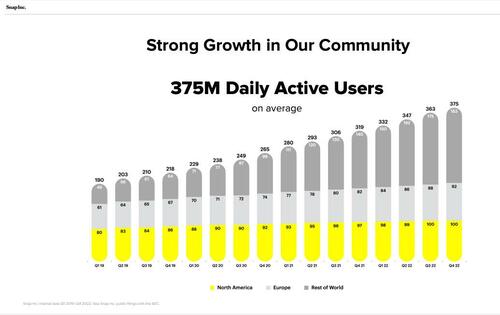 Of course, with (just barely) more users than expected yet missing on revenue, it meant just one thing: the monetization disappointed and sure enough, ARPU of $3.47, was not only 15% lower vs 2021, but missed estimates of $3.49
North America average revenue per user $8.77, -8.5% y/y, estimate $9.16

Europe average revenue per user $2.38, -6.3% y/y, estimate $2.25

Rest of world average revenue per user $1.10, -1.8% y/y, estimate 99c
But while historical data was bad, it's what the company disclosed about the present and, worse, the future that shocked markets: specifically, while the company disappointed  quarter-to-date revenue is already down about 7% Y/Y, the final straw before everyone hit the sell button is that the company's forecast assumes revenue will decline between -10% to -2% in the first quarter.
Not only is that below the average analyst estimate for growth of 1.48%, but it is Snapchat's first every quarterly negative revenue guidance.
Knowing that its stock would soon be in the single digits, it barely tried to put lipstick on a pig and instead just gave token lip service to Q1 guidance, saying that "given the work we have completed to reprioritize our cash cost structure, we believe we have a path to adjusted EBITDA breakeven in Q1."
Whatever. Meanwhile, the company is now a melting ice cube, and the stock reflects it with SNAP plunging back into the single digits after hours.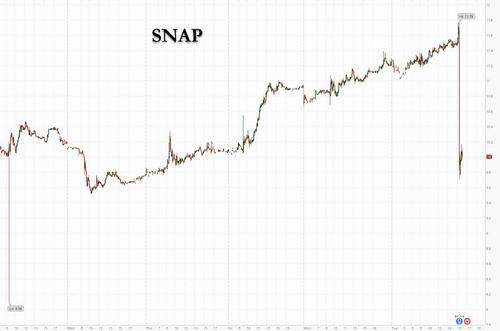 Tyler Durden
Tue, 01/31/2023 – 16:47
via ZeroHedge News https://ift.tt/dmpLO81 Tyler Durden