NYPD Overtime Budget On Pace For Record As Cop Shortage Worsens
The New York City Police Department is experiencing its biggest officer exodus in twenty years, leading to a shortage of personnel. As a result, officers are now increasing their hours on patrols, causing the overtime budget to swell, on track to hit the highest level in a decade this year, according to Bloomberg. 
New York City Comptroller Brad Lander published a new report outlining that the NYPD has exceeded its budget by $98 million, spending $472 million on overtime through February. Lander's office said the department is on track to spend more than $740 million, which would be the highest in a decade. The NYPD's fiscal year ends on June 30.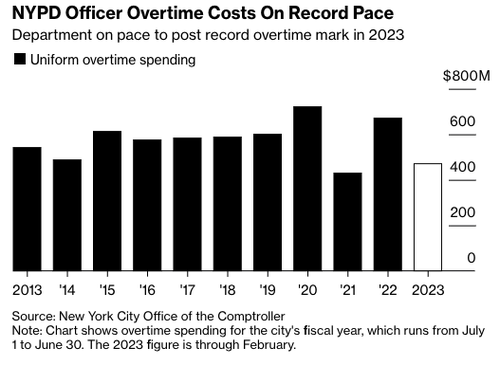 While newly-elected Mayor Eric Adams has pledged to reduce NYPD overtime spending, the department is suffering a severe staffing crisis following the protests and riots of 2020 that were sparked by George Floyd's death. Then defunding the police movement swept in as progressive lawmakers demanded a reduction in police budgets. 
On top of all of that, left-leaning media outlets demonized officers and led to a further exodus that continues to this day. Data from NYC Police Pension Fund found that 1,955 officers retired in 2022, and another 1,746 quit, indicating a total of 3,701 left the force just last year — the largest exodus since 2002, following the 9/11 attacks. 
So what's clear is that the soaring overtime budget results from officers working longer hours because of a shortage of personnel. NYPD has lowered its standards for new officers in an attempt to boost numbers on the streets. 
Meanwhile, robberies, burglaries, felony assaults, and grand larceny are surging. How can New Yorkers rest assured that they will be protected as a cop shortage plagues the metro area?
Tyler Durden
Sun, 03/26/2023 – 15:00
via ZeroHedge News https://ift.tt/PeYhy6z Tyler Durden