Manchester Clubs Dominate The Premier League Era
Following a title race that looked very close for large parts of the season, Manchester City clinched its seventh Premier League title last weekend, when Arsenal lost 1:0 to Nottingham Forest.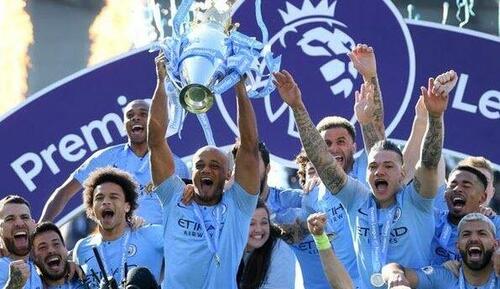 Having taken the lead in the Premier League table after matchday 3 and not given it up until after matchday 34, Arsenal had a real chance at winning title just a couple of weeks ago, only to suddenly find itself 8 points behind City with one game to play.
Due to some scheduling issues, Arsenal's lead – Arteta's team was 8 points clear at the top of the table after matchday 29 – looked perceptively commanding at times, as Arsenal had yet to face City away and Guardiola's team always had one or two games in hand to close the gap. In the end, City's dominant run of form towards the end of the season was enough to secure yet another title, while Arsenal will have to wait another year for a chance to win a fourth Premier League title.
As Statista's Felix Richter reports, City's latest triumph marks the club's fifth title in the past six years and its seventh in both, the Premier League and the Abu Dhabi era. While Manchester City has dominated the Premier League over the past decade, local rival Manchester United has done so for large parts of the preceding two Premier League decades. The Red Devils have a record 13 Premier League titles to their name, but the last one came in 2013 – the final season under legendary manager Sir Alex Ferguson.
The following chart shows which clubs have claimed the most titles since the Premier League's foundation in 1992.
You will find more infographics at Statista
Interestingly, the world's most popular and supposedly most competitive football league has only seen seven different champions in 30 years of its existence.
Tyler Durden
Sun, 05/28/2023 – 07:35
via ZeroHedge News https://ift.tt/Fsn5CtO Tyler Durden