"See You In The Hague!": Lindsey Graham Snarks Back After Russia Issues Arrest Warrant
Sen. Lindsey Graham (R-SC) has hit back after Russia issued a warrant for his arrest – calling it a "badge of honor."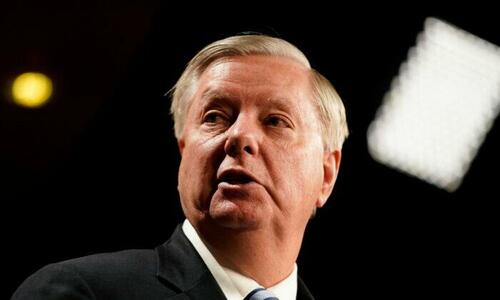 "Here's an offer to my Russian 'friends' who want to arrest and try me for calling out the Putin regime as being war criminals: "I will submit to [the] jurisdiction of the International Criminal Court if you do," Graham said in a May 29 press release.
"Come and make your best case. See you in The Hague!" he continued, adding "To know that my commitment to Ukraine has drawn the ire of Putin's regime brings me immense joy."
"I will continue to stand with and for Ukraine's freedom until every Russian soldier is expelled from Ukrainian territory."
Graham, a massive proponent of the Ukraine war, stated in a video of his meeting with Ukrainian President Volodymyr Zelenskyy that "the Russians are dying," adding that the US military aid provided to Ukraine was "the best money we've ever spent."
Ever?

— Elon Musk (@elonmusk) May 27, 2023
While Graham appeared to have made the comments at separate points in the conversation, the brief video produced by Ukraine's presidential office juxtaposed them, sparking outrage in Russia.

Dmitry Peskov, the spokesman for Russian President Vladimir Putin, said on Sunday that it was hard to imagine a greater shame for the United States than having individuals like Graham as senators. –Epoch Times
In February, Graham said that the US shouldn't be worried about provoking Russia by helping Ukraine.
"The British are training Ukrainian pilots. I believe a decision will be imminent here when we get back to Washington that the administration will start training Ukrainian pilots on the F-16. They need the weapons system," he told ABC's "This Week" on Feb. 19.
Putchist Lindsey Graham: "I'm not worried about provoking Putin. I want to hit him and how do you hit him? We will defeat him by giving the Ukrainians the military capability to drive the Russians out of Ukraine." THIS CORRUPT GRAHAM WILL PROVOKE THE TOTAL DESTRUCTION OF UKRAINE pic.twitter.com/mmHyTFxYFd

— Michel Petrucci ❤️ 🇮🇹 (@appolo007) February 20, 2023
Graham has urged his fellow politicians to declare Russia a state sponsor of terrorism, and has advocated for the US to begin training Ukrainian pilots on F-16s. 
"They need the weapons system," said Graham in the above interview, which echoed VP Kamala Harris' claim that Russia was guilt of "crimes against humanity."
"So, we need to do two things quickly," said Graham. "Make Russia a state sponsor of terrorism under U.S. law, which would make it harder for China to give weapons to Russia, and we need to start training Ukrainian pilots on the F-16 now."
Tyler Durden
Wed, 05/31/2023 – 19:05
via ZeroHedge News https://ift.tt/a9wmUsI Tyler Durden