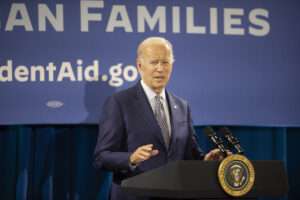 Just a few hours after the Supreme Court invalidated his $400 billion student loan forgiveness plan for which the administration claimed authorization under the HEROES Act of 2003, President Biden announced he will try to push through loan forgiveness under the Higher Education Act of 1965, instead:
Hours after the ruling, Biden announced his administration will be taking a new route. The Education Department filed a notice on Friday to begin the regulatory process of using the Higher Education Act of 1965 to cancel student debt, which does not require relying on a national emergency.

"This new path is legally sound," Biden said during Friday remarks. "It's going to take longer, and in my view is the best path that remains in providing for as many borrowers possible. But I'm directing my team to move as quickly as possible on the law."

The Higher Education Act states that the Education Department can "enforce, pay, compromise, waive, or release any right, title, claim, lien, or demand" related to federal student debt.
I can't say for sure whether the new plan is legal until such time as we have details on what exactly it will do. But the Higher Education Act (HEA) was previously advanced as a possible alternative justification for the plan the Supreme Court struck down today (the administration never used the argument, however). I criticized the HEA rationale for that plan here. Fordham law Professor Jed Shugerman (who is much more sympathetic to the administration's goals than I am, offered criticisms in an article in the Atlantic, though he also argued that the HEA theory was stronger than the HEROES Act approach the administration chose to adopt.
It's too early for any definitive assessment of the administration's potential new loan forgiveness plan. The one thing we can say with confidence is that we are likely to have more legal battles over executive authority to cancel student loans!
The post Biden Says He Will try to do Student Loan Forgiveness Under the Higher Education Act of 1965 appeared first on Reason.com.
from Latest https://ift.tt/dqRZK0C
via IFTTT