Hedge Funds "Confused, Baffled" And Steamrolled By Squeezes As Meme Stock Frenzy Returns
For those who made a killing last week after buying and then (hopefully) selling such names as Hong-Kong's recently IPOed, zero revenue AMTD Digital (ticker HKD), which exploded 32,000% to surpass $400BN market cap before plummeting, we have some good news: the most-shorted, meme stock mania is back, as is FOMO.
As we first reported last week in "Explosion In Retail Buying Revealed As Source Of Latest Market Meltup", the retail mania that characterized the market for much of H1 2021 is back. Take shares of Hong Kong-based small investment bank Magic Empire Global (MEGL) which on Monday more than doubled in US premarket trading, following the stock's 2,325% surge in its debut session on Friday.
But one doesn't have to go all they way to Hong Kong to find examples of such mouthwatering FOMO YOLO. As we noted earlier, now that FOMO is once again front and center, basement dwelling retail traders (most of them in their late teens and early/mid-20s), who lurk in forums like Reddit's WallStreetBets are back to betting against Wall Street pros – and fighting the Fed – as rallies for meme stocks like Bed Bath & Beyond and AMC Holdings Inc. show shades of last year's mania.
As Bloomberg details, the struggling home-goods retailer tripled at one point during its nine-day winning streak while the movie-theater firm – which along with Gamespot is one of the OGs of the meme stonk movement – is riding a 70% rally of its own as animal spirits reawake. The pair have powered a basket of 37 meme stocks tracked by Bloomberg higher by 11% over the past week while the most-shorted stocks tracked by a Goldman Sachs basket is up nearly 20% over the same period.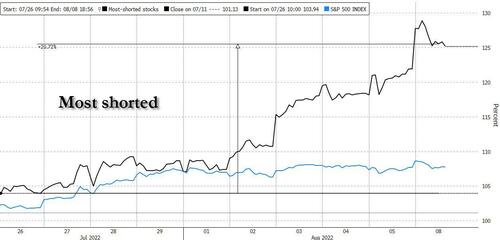 The resurgence of this most speculative corner of the market is fueled by the previously reported explosion in retail trading which, in keeping with the good, ole Melvin tradition, are buying the stocks most shorted by hedge funds. A rally in tech shares and other growth stocks at one point pushed the Nasdaq 100 Index into a bull market, up some 20% from a June low amid alarms from some on Wall Street that the Fed is dead-set on fighting inflation regardless of the pain for the stock market.
The "smart guys" are "confused, baffled and fighting short positions from a position of weakness in terms of momentum and firepower," said Mark Taylor, a sales trader at Mirabaud Securities. "The lack of real understanding of why a sudden resurrection of the meme-entum bid could lead to some nefarious speculation about things being manipulated but what would be as much sour grapes speculation as anything real."
Unlike Gamestop and AMC which generated career-making returns in days in Jan 2021, today it was Bed Bath & Beyond – a company mired in a deep sales slump and mulling ways to boost liquidity – that took the meme stock baton, rising 63% at one point on Monday as the stock became the most bought asset on Fidelity's platform. AMC saw the second most purchases while both company tickers were the most mentioned on Reddit's WallStreetBets platform, according to Bloomberg.
A basket of meme stocks tracked by Bloomberg rose 4.8%, extending a six-day rally of its own. The top performers behind Bed Bath & Beyond and AMC were GameStop and Express. The abovementioned newly-public Magic Empire Global, a little-known Hong Kong-based financial services firm, extended a 3,000% two-day surge since going public, attracting some retail attention.
"These meme stock rallies that are emerging will only last if US stocks broadly continue to head higher," said Ed Moya, senior market strategist at Oanda. "After AMTD Digital reminded the WallStreetBets crowd of the potential skyrocketing moves, many retail traders are scanning their favorite plays and are looking to get back in."
As we observed last week, the rapid rise and just as fast fall for AMTD Digital Inc. both puzzled and captivated the markets. The stock posted a record-shattering surge of more than 32,000% just days after IPOing, before erasing a bulk of the gains. At the same time, heavily-shorted stocks like Wayfair, Beyond Meat, and those that went public via blank-check merger including 23andMe Holding Co. saw double-digit rallies at one point as investors braced for volatility.
The Goldman index of most-shorted stocks is up 9 days in a row: matching the longest streak of rises on record.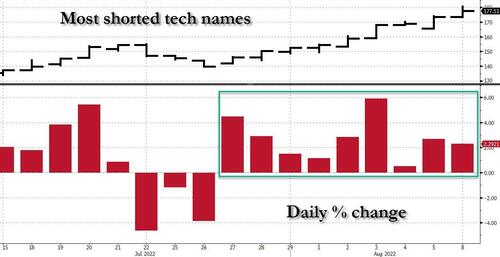 It is unclear where the buying by retail begins and short covering by hedge funds ends, but we are confident that the start of August will see another round of huge hedge fund losses as lightning has short-squeeze lightning has struck twice in less than two years.
Meanwhile, an index tracking hedge funds' high-conviction bets rose 1.8% last week, trailing those favored by retail investors by 2.7 percentage points, the most since March.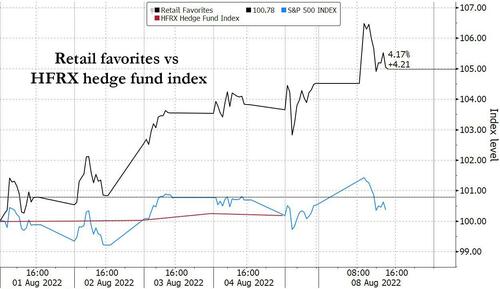 While still early into August, the firm's basket of retail favorites is on track for the best month since Jan. 2021 relative to firms favored by hedge funds. The retail basket carries names including Delta Airlines, which just clocked the longest streak of weekly gains since 2020.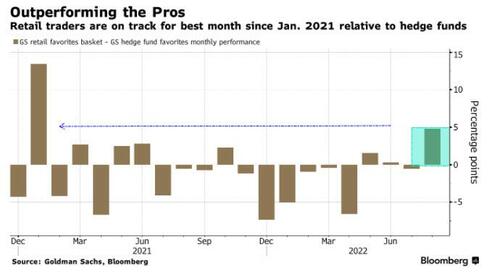 "Retail traders have to move quickly, because one headline can change the entire trajectory of the stock market," said Quincy Krosby, chief global strategist at LPL Financial. "Retail traders are daring the Fed and they're daring some professional investors, and they're doing well so far. It's dicey because it can go in the other direction really fast."
That is correct, which is why what Powell does next matters: an intermeeting rate hike, for example, would quickly take the air out of the latest meme stonk bubble. According to Bloomberg's Tatiana Darie, the resurgence in meme names and the recent easing in financial conditions shows the Fed has a lot more work to do to hammer home the idea that higher interest rates are coming. Still, we know that retail investors aren't easily deterred and they've kept on buying during this year's selloffs and most recently, piled into tech stocks after traders took Fed Chair Powell's comments to tacitly back the idea of a pivot. But the frenzied rally in highly-risky names just proves tightening expectations have eased dramatically and it doesn't do the Fed any favors that even basement-dwelling teenagers have zero cares about the central bank's hawkish jawboning.
Tyler Durden
Mon, 08/08/2022 – 15:00
via ZeroHedge News https://ift.tt/TwcXtEj Tyler Durden