Russia Evacuates Children From Border Villages As Ukrainian Shelling Escalates
In what's now becoming an alarming pattern of cross-border escalation, multiple civilians were injured in Russia's Belgorod region, just kilometers from Ukraine, due to large-scale shelling on Wednesday, presumably from Ukrainian forces.
Local governor Vyacheslav Gladkov said at least four people had been injured. He described that situation in the border town of Shebekino has been "deteriorating" due to the "massive strike" from Ukrainian forces.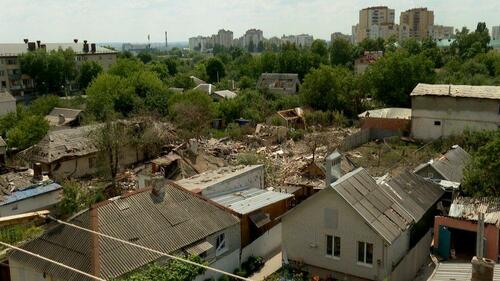 One among the casualties was described as being in "serious" condition after being hit by shrapnel. A school as well as some dozen buildings had minor damage from the attack. The governor said the cross-border attack was from Soviet-era Grad multiple rocket launcher systems. "Nobody, thank God, died," Gladkov said.
Russia now says it is in the process of evacuating families and hundreds of children from villages in the border region, calling the situation "alarming". 
"We are starting today to evacuate children from the Shebekino and Graivoron districts," Gladkov said in a notification posted to Telegram.
Per the AFP, "The governor said the first 300 children will be taken to Voronezh, a city around 250 kilometers (155 miles) further into Russia." The report details that "He posted photographs of blackened burned cars lying in the grass near a playground, and a rocket that had apparently landed on a road."
The past days and weeks have seen sporadic shelling and drone attacks on the region which borders northern Ukraine, and follows a dramatic cross-border raid from a militia earlier this month.
⚡️View from that Russian town of Shebekino in the Belgorod Region.

Consequences of Ukrainian shelling. pic.twitter.com/vrebvLtGf4

— War Monitor (@WarMonitors) May 31, 2023
Putin spokesman Dmitry Peskov on Wednesday complained that Western officials have yet to condemn these actions from Ukraine that Moscow has deemed "terrorism". 
"We have not heard a single word of condemnation from the West so far," Peskov said, stressing that "measures are being taken."
⚡️They provoke us to mirror actions, let's see what to do with it — Putin pic.twitter.com/0gunn8VfK1

— War Monitor (@WarMonitors) May 30, 2023
President Putin himself has lately warned of "mirror actions" in retaliation against Ukraine. Over the weekend Russian forces stepped up drone attacks on Kiev; however, Ukrainian forces said they intercepted most of the dozens of inbound drones, in what was the largest Russian UAV attack on the capital thus far.
Tyler Durden
Wed, 05/31/2023 – 14:40
via ZeroHedge News https://ift.tt/Y4tpNeL Tyler Durden