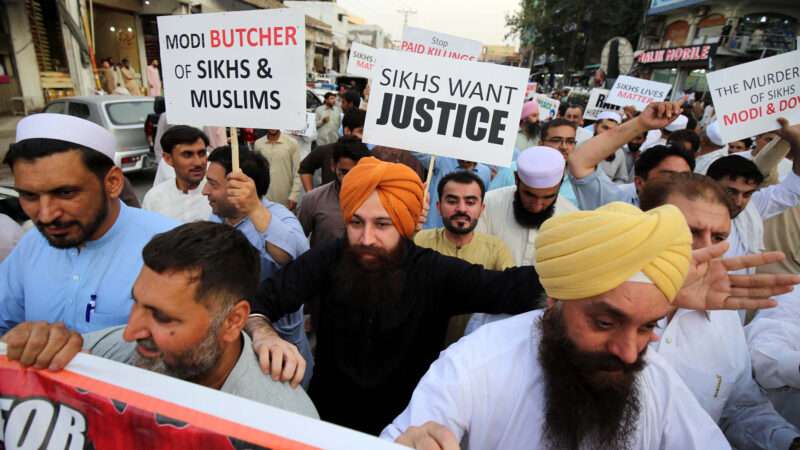 Canada and India are at odds over the Canadian government's claims that Indian agents assassinated Hardeep Singh Nijjar, a Sikh separatist leader, in British Columbia. The crime has damaged relations between the two countries, and it may be part of a growing and very troubling trend. If the hit really was state sponsored, it's one of a wave of such acts taken by governments against critics and dissidents who seek refuge on foreign soil.
"Prime Minister Justin Trudeau is accusing the government of India of involvement in the fatal shooting of a Canadian Sikh leader — a claim that will have seismic effects on an already shaky bilateral relationship," the CBC reported September 18. "Canadian citizen Hardeep Singh Nijjar was brazenly shot dead outside a Sikh temple in Surrey, B.C. on June 18."
Hardeep Singh Nijjar, who moved to Canada from India in 1997, was long of interest to the Indian government. A supporter of a separate state for Sikhs, Nijjar was accused of terrorism by Indian officials who offered a cash bounty for information leading to his arrest. They may not have stopped there; Canadian Security Intelligence Service officers apparently warned Nijjar that his life was in danger and the U.S. Ambassador to Canada says the Five Eyes intelligence alliance of the United States, the United Kingdom, Canada, Australia, and New Zealand supported Canadian Prime Minister Justin Trudeau's claim that Nijjar was targeted by Indian agents.
If he was targeted in his country of refuge by a government he'd offended, Hardeep Singh Nijjar is far from an isolated case.
Thugs Without Borders
"All over the world, individuals brave enough to speak out against repression are being targeted by autocrats who reach across borders to silence their voices," Freedom House warned this year. "Tactics of transnational repression—including assassinations, unlawful deportations, detentions, renditions, physical and digital threats, and coercion by proxy—are used by governments to stamp out dissent among diasporas and exiles living beyond their borders."
The Washington, D.C.-based organization claims to have "information on 854 direct, physical incidents of transnational repression committed by 38 governments in 91 countries around the world since 2014."
This isn't an entirely new phenomenon. Critics of Russia's government, in its old communist version and its current generically authoritarian flavor, have long had a habit of running afoul of poison, radioactive substances, open windows, and other lethal mishaps—often outside Moscow's jurisdiction.
"Russia was responsible for the killing of Alexander Litvinenko, the European Court of Human Rights (ECHR) has found," the BBC reported in 2021. "Litvinenko, a former Russian spy who became a British citizen, was fatally poisoned with radioactive polonium-210 in London in 2006."
But the practice of reaching beyond borders to target dissidents has become more common in recent years, with the Chinese government a major offender.
China's Worldwide Dissident Hunt
"The Chinese Communist regime, often with the aid of other governments, is systematically hunting down its political and religious exiles, no matter where in the world they seek refuge," Nate Schenkkan and Sarah Cook reported in 2021 for The Diplomat.
"Fox Hunt is a sweeping bid by General Secretary Xi [Jinping] to target Chinese nationals whom he sees as threats and who live outside China, across the world," FBI Director Christopher Wray charged in a 2020 speech. "We're talking about political rivals, dissidents, and critics seeking to expose China's extensive human rights violations. Hundreds of the Fox Hunt victims that they target live right here in the United States, and many are American citizens or green card holders."
In April of this year, authorities arrested two men accused of helping establish a secret Chinese "police station" in New York's Chinatown. "The PRC, through its repressive security apparatus, established a secret physical presence in New York City to monitor and intimidate dissidents and those critical of its government," according to U.S. Assistant Attorney General Matthew Olsen.
Likewise, the Saudi government is implicated in the infamous 2018 murder of journalist Jamal Khashoggi in Turkey. "American officials listened to a recording obtained by Turkish intelligence that not only captured Mr. Khashoggi's struggle against Saudi agents and his killing, but also the sounds of the saw being used on his body," reported The New York Times.
Turkey's government, it should be noted, cooperates with Beijing to silence Muslim Uyghur refugees who fled to Turkey, and it has sought assistance in muzzling its own dissidents. "Uzbekistani security services helped abduct a man from his apartment in Tashkent and return him to Turkey," notes Freedom House.
Transnational Repression Isn't Just for Dictators
This is where matters get more disturbing. While increasingly illiberal, Turkey still has elections and (eroding) domestic debate. The same can be said of India, which is drifting in an autocratic direction but is not (yet) explicitly authoritarian. If India's elected government is responsible for Nijjar's assassination, that means transnational repression isn't just a vice of central-casting dictators.
Even countries usually considered free are guilty. Journalist Julian Assange was seized by the U.K. at the behest of the United States on what Amnesty International describes as "politically motivated charges." Then-Bolivian President Evo Morales's plane was forced to land in Austria in 2013 by European governments cooperating with the U.S. on suspicion that whistleblower Edward Snowden was aboard.
Freedom House rightfully complains, "because so many democratic countries have adopted policies that harden their borders and discourage asylum seekers, people who advocate for human rights or defend democratic principles in harsh environments are often forced to remain in parts of the world where autocrats make the rules." On the assumption that some countries are true safe harbors for peaceful dissenters, the organization wants free countries to be more welcoming and protective to refugees.
But democratic countries are only refuges if they're not actively assisting other regimes in acts of transnational repression or engaging in the practice themselves. As it is, while peaceful dissidents and critics of all sorts are certainly better off in more-open societies than under explicitly authoritarian regimes, their safety is relative. How much protection they enjoy is subject not only to the competency of local authorities, but also to how well-disposed they are to specific asylum-seekers.
Canada's government may be doing its best to bring Hardeep Singh Nijjar's assassins to account. But government officials are always jealous of their power, and no place is truly safe for those who cross thin-skinned officials.
The post India's Alleged Assassination of a Dissident in Canada Highlights Repression Across Borders appeared first on Reason.com.
from Latest https://ift.tt/Szg7ZiU
via IFTTT